The Hockey Sweater (Hardcover)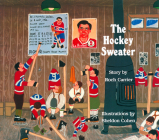 $17.95
Usually Ships in 1-5 Days
Description
---
In the days of Roch's childhood, winters in the village of Ste. Justine were long. Life centered around school, church, and the hockey rink, and every boy's hero was Montreal Canadiens hockey legend Maurice Richard. Everyone wore Richard's number 9. They laced their skates like Richard. They even wore their hair like Richard. When Roch outgrows his cherished Canadiens sweater, his mother writes away for a new one. Much to Roch's horror, he is sent the blue and white sweater of the rival Toronto Maple Leafs, dreaded and hated foes to his beloved team. How can Roch face the other kids at the rink?
About the Author
---
ROCH CARRIER, who studied at the Universite de Montreal and completed a doctorate in Paris at the Sorbonne, is a novelist, playwright and children's author, and past winner of the Stephen Leacock Medal for Humour. Formerly the director of the Canada Council for the Arts and the National Librarian of Canada, Carrier is a fellow of the Royal Society of Canada and an Officer of the Order of Canada, and he holds many honorary doctorates. A quote from Carrier s Canadian children's classic The Hockey Sweater could be found until recently on the back of Canada s five-dollar bill. Carrier lives in Montreal.
DONALD WINKLER was born in Winnipeg in 1940, graduated from the University of Manitoba in 1961, and did graduate study as a Woodrow Wilson Scholar at the Yale School of Drama. From 1967 to 1995 he was a film director and writer at the National Film Board of Canada in Montreal, and, since the 1980s, has been a translator of Quebec literature: in 1994, 2011 and 2013 he won the Governor General s Award for French to English translation, and has been a finalist for the prize on two other occasions.
Sheldon Cohen, a convert to Catholicism, is a musician, conductor, arranger, and producer. A Brooklyn native who served for many years as the Assistant Musical Director of The Tonight Show with Johnny Carson, he has appeared as the conductor for church, charity, and popular concerts throughout southern California. He now lectures on music and continues to produce his unique brand of devotional albums, such as the best-selling CDs Music to Heal the Body and Soul and The Rosary, including the Mysteries of Light.
Praise For…
---
"….not only sweet and funny, but a wise parable about Quebec and English Canada."
–Toronto Star