Moving Beyond Depression: A Whole-Person Approach to Healing (Paperback)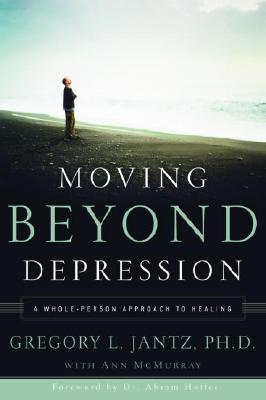 Description
---
You Can Hope Again

You may feel as if you will never find a way out of the darkness of depression. Gregory L. Jantz, Ph.D. believes that because people's paths into depression are uniquely their own, their paths out of depression will be unique as well. In Moving Beyond Depression, he takes an insightful and honest look at the emotional, environmental, relational, physical, and spiritual causes of this disease. Here you will find practical help that will lead you to true freedom.
About the Author
---
Gregory L. Jantz, Ph.D. is the bestselling author of numerous books including "Hope, Help, and Healing for Eating Disorders. "He is the founder and executive director of The Center for Counseling and Health Resources, Inc., a leading mental health and chemical dependency treatment facility with three clinics in the Seattle, Washington area. Dr. Jantz and his wife, LaFon, have two sons, Gregg and Benjamin. Please visit Gregg at www.aplaceofhope.com.

Ann McMurray is a freelance writer living in Mountlake Terrace, Washington who has worked with Gregg over the last ten years on several book projects. Ann and her husband, Tad, have two children, Joel and Lindsay.
Praise For…
---
"With wisdom and sensitivity, Dr. Jantz challenges popular approaches to treating depression and provides real solutions for real healing."
–Dr. Tim Clinton, author of numerous books and president of the American Association of Christian Counselors

"Dr. Jantz leads readers through, around, and beyond depression."
–Robert A. Anderson, M.D., author of Clinician's Guide to Holistic Medicine

"Moving Beyond Depression is an extraordinary book that not only touches the very core of this troubling disease but offers healing guidance and wisdom that is totally on target for anyone who suffers from depression."
–Cynthia French, author of Humanville