Giant Thief (Mass Market Paperbound)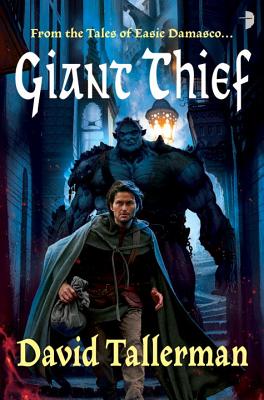 Description
---
Meet Easie Damasco, rogue, thieving swine and total charmer.
Even the wicked can't rest when a vicious warlord and the force of enslaved giants he commands invade their homeland.Damasco might get away in one piece, but he's going to need help.
Big time.
File Under: Fantasy Big Trouble - Deception - Saltlick's City - Hang 'im High ]
e-book ISBN: 978-0-85766-212-5.
About the Author
---
David Tallerman's fantasy, science fiction and horror short stories have appeared in numerous markets, including"Lightspeed, Bull Spec," "Redstone Science Fiction"and John Joseph Adams's zombie best-of"The Living Dead."Amongst other projects, David has published poetry, comic scripts, and an award winning short film.He can be found online athttp: //davidtallerman.net/andhttp: //davidtallerman.blogspot.com/."
Praise For…
---
"A breezy novel... Tallerman's charming, devil-may-care hero has plenty of swashbuckling roguishness to carry him through the planned sequels." - Publishers Weekly

"Capturing the brisk pacing and snappy dialogue of comic fantasy adventure, Tallerman's accomplished swashbuckling series opener should appeal to fans of Fritz Leiber's Fafhrd and the Gray Mouser stories and Robert Asprin's "Thieves' World" series." - Library Journal

"A fast-paced, witty and original fantasy, reminiscent of Scott Lynch and Fritz Leiber." - Adrian Tchaikovsky, author of the Shadows of the Apt series

"Fast-paced, quick-witted, engaging; as apt a description of Easie Damasco, reluctant hero, as of the novel itself." - Juliet E. McKenna, author of The Tales of Einarinn

"Breathless pace... Damasco resembles a landlocked version of Jack Sparrow... The atypical backdrop,self-aware style and downplaying of magics bring to mind the contemporary fantasies of Scott Lynch and Joe Abercrombie." - SFX Magazine
 
"If you're up for a fun, fast-paced adventure featuring rogues, giants and lots of fighting, you won't want to miss it!" - A Fantastical Librarian