Pretty Little Dead Things: A Thomas Usher Novel (Mass Market Paperbound)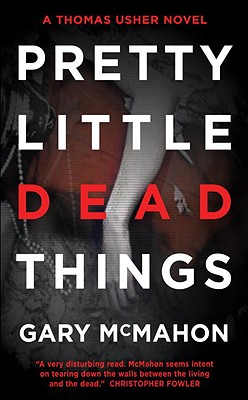 Description
---
THOMAS USHER HAS A MOST TERRIBLE TALENT.
Following a car crash in which his wife and daughter are killed, he can see the recently departed, and it's not usually a pretty sight. When he is called to investigate the violent death of the daughter of a prominent local gangster, Usher's world is torn apart once more. For the barriers between this world and the next are not as immutable as once he believed.
Mashing together the grittiest British police procedural with dark supernatural terror, author Gary McMahon creates a refreshingly new take on horror fiction.
FILE UNDER: Horror See the Dead/ Skin Trade / Beyond Reality / A Sacrifice]
About the Author
---
GARY McMAHON is a British writer whose short fiction has appeared in numerous magazines and anthologies in the UK and US. He is the multi-award nominated author of the novellas "Rough Cut" and "All Your Gods Are Dead, " and the novels "Rain Dogs" and "Hungry Hearts." He has been nominated for seven different British Fantasy Awards as both author and editor, and won four times.
Praise For…
---
"Gary McMahon's vision is as bleak as a Yorkshire moor, but it glows with a wintry light that illuminates the dark we live in. His prose and his sense of place are precise and evocative, and his characters are as real as you and me. He's one of the darkest – which is to say brightest – new stars in the firmament of horror fiction." - Ramsey Campbell

"Pretty Little Dead Things is a very disturbing read. Gary McMahon seems intent on taking readers through the looking glass and tearing down the walls between the living and the dead. He creates dark, hallucinatory images that burn in your brain forever. One very creepy dude, and this is his creepiest to date." - Christopher Fowler

"Gary McMahon's horror is heartfelt, his characters flawed and desperate, and this book is a rich feast of loss, guilt, and redemption. His vivid ideas are given life in beautiful prose, and the book leaves you staring into shadows that weren't there before. His talent shines, and is set to burn brighter still." - Tim Lebbon

"I had to finish it early enough in the evening so it wouldn't follow me to bed." - Gill Polack

"A cool, dark, downbeat horror-thriller, this is the first of two Usher novels that McMahon will publish through Angry Robot books and it's a killer... Full of inventive, realistic characters, gruesome set pieces and a very nasty dark turn from The Pilgrim, this is a startling, demanding novel, that I recommend highly." - Mark West, Strange Tales

"Pretty Little Dead Things is horror at it's best, an intelligent, dark mind-warping novel of power and imagination." - SciFi & Fantasy Books

"... the mood in Gary McMahon's Pretty Little Dead Things is heavy with grief, foreboding, and the taint of weird magic, and it's so thick you can stir it with a spoon. It's the taste of ash in your mouth, and it's absolutely delicious." - Ros Jackson, Warpcore SF

"Ranking this book out of ten – I give it 835. If you have emotions – if you've ever loved and lost – if you've ever had a regret – and if you've ever had a paranormal experience – this book will blow you away!" - Author Poppet

"This is a compelling novel, the puzzle structure of the whodunnit remixed to great effect with the dread of the best horror. Not so much hard-boiled as hard-nuked, this novel puts McMahon firmly in the front ranks of the new wave of British horror." - The Guardian

"McMahon's first Usher novel is a stupendous feat of hideousness. In the best possible way." -Stanley Riiks' Blog