Everything You Always Wanted to Know about God (But Were Afraid to Ask): The Jesus Edition (Hardcover)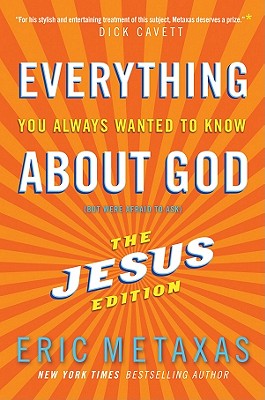 Description
---
We all have questions about Jesus, but very few of us get the answers we're looking for—if the answers even exist! Do they? Where (in heaven's name) do you go to find out? New York Times bestselling author Eric Metaxas understands how hard it can be to get hard truths, and that's why he is writing this hilarious, entertaining guide to the most influential single Person to have ever lived on the face of the earth. Like his previous books in this style, Everything You Always Wanted to Know About God is a book that takes questions about the Son of God seriously enough to get silly- where appropriate. Metaxas covers questions about Jesus' life -Did He live at all?-, His death -If He truly was the Son of God, why did He have to die?-, His resurrection -Did Jesus really come back after death?-, and much more. Apologetics has never been so much fun!
About the Author
---
ERIC METAXAS is the New York Times bestselling author of Amazing Grace: William Wilberforce and the Heroic Campaign to End Slavery. His writing was first published in Atlantic Monthly, and has appeared in the New York Times, the Washington Post, Regeneration Quarterly, Christianity Today, National Review Online, Beliefnet and First Things. The American Booksellers Association chose Metaxas's The Birthday ABC as a 1995 Pick of the List and Amazon.com honored his Squanto and the Miracle of Thanksgiving with their Number One Bestseller Award for Thanksgiving 1999. He has been featured numerous times on CNN, The Fox News Channel and other television networks, and has been a guest on NPR. He is the founder and host of Socrates in the City: Conversations on the Examined Life, a monthly event of entertaining and thought provoking discussions that feature such speakers as Sir John Polkinghorne, Dr. Armand Nicholi, Os Guinness, Lauren F. Winner and Peter Kreeft. Metaxas serves on the vestry of Calvary/St. George's Episcopal Church, and lives in Manhattan, New York, with his wife and daughter.
Praise For…
---
How anyone writes a book on God that reads like a can't-put-it-down thriller is a miracle itself. Metaxas doesn't just knock my socks off—he knocks my robe off!
JUDGE JEANINE PIRRO
Former Westchester County D.A., host of the nationally syndicated Judge Jeanine Pirro television program
 

Quick, witty, engaging and often profound . . . vintage Metaxas. Good and profitable reading.
CHUCK COLSON
Founder of Prison Fellowship, Author of How Now Shall We Live 
The difficulty is not to gush. Eric has written a wise, funny, and disarming book, one that will, I'm sure, be handed around dorms, churches and anywhere smart, curious people (both believers and unbelievers) can get their hands on it.
TIM KELLER
Author of the New York Times bestselling The Reason for GodFinally, a book of apologetics that you can give to your friends without cringing!
LAUREN WINNER
Author of Girl Meets God
An excellent primer on the most important questions of life, engagingly presented in question-and-answer format. A timely and useful book for a searching, spiritually hungry America.
GEORGE GALLUP, JR.
Founding Chairman of the George H. Gallup International Institute