Guide to Crochet: Learn to Crochet with More Than 30 Cool, Easy Patterns (Paperback)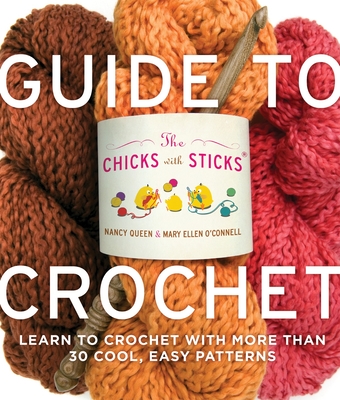 $17.95
Usually Ships in 1-5 Days
Description
---
Join the clique of the Chicks with Sticks
Anyone can do it. Anyone. Stop thinking. Stop being afraid. Stop sweating, you'll get the hook all damp. Yes, with the help of the Chicks with Sticks, anyone can learn to crochet in just a weekend--and by Sunday night, beginners will know what they're doing and have the confidence to do it. Advanced beginners (the ones who have already made an afghan square) will have fresh, fashion-forward projects to wear around town. First up is an introductory section on tools and materials. Then the Chicks present a series of lessons that each introduce a new skill and patterns that help readers learn and master it before moving on. The more than 30 projects range from cool belts to stunning scarves, from felted bags to stylish wraps and sweaters. Throughout, the Chicks with Sticks are standing by with quips and anecdotes, support and sisterhood. Learning to crochet has never been so entertaining . . . and so empowering.
About the Author
---
Nancy Queen is one of the Chicks with Sticks, the creators of a popular line of knitting and crochet patterns sold in yarn shops. A popular designer and instructor, she is the author of Crochet for Tots. Mary Ellen O'Connell, the other Chick, is a lifelong knitter who creates knitting patterns for her own line, Meo Designs, as well as for the Chicks with Sticks. Both Chicks live near Philadelphia.