Morgan: American Financier (Paperback)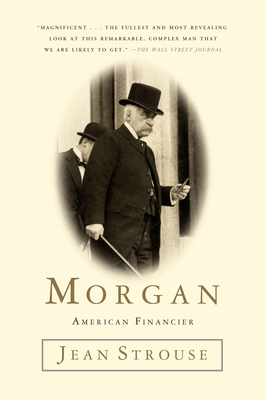 Description
---
NATIONAL BESTSELLER
The definitive full-scale portrait of J. Pierpont Morgan's tumultuous life, both in and out of the public eye
History has remembered him as a complex and contradictory figure, part robber baron and part patron saint. J. Pierpont Morgan earned his reputation as the Napoleon of Wall Street by reorganizing the nation's railroads and creating industrial giants such as General Electric and U.S. Steel. At a time when the country had no Federal Reserve system, he appointed himself a one-man central bank. He had two wives, three yachts, four children, six houses, mistresses, and one of the finest art collections in America. In this extraordinary book, drawing extensively on new material, award-winning biographer Jean Strouse vividly portrays the financial colossus, the avid patron of the arts, and the entirely human character behind all the myths.
Praise for "Morgan"
""
Magnificent . . . the fullest and most revealing look at this remarkable, complex man that we are likely to get. "The Wall Street Journal"
""
A masterpiece . . . No one else has told the tale of Pierpont Morgan in the detail, depth, and understanding of Jean Strouse. Robert Heilbroner, "Los Angeles Times Book Review"
It is hard to imagine a biographer coming any closer to perfection. "St. Louis Post-Dispatch"
Strouse is in full command of Pierpont Morgan's personal life, his financial operations, his collecting, and his benefactions, and presents a rich, vivid picture of the background against which they took place. . . . A magnificent biography. " The New York Review of Books "
""
With uncommon intelligence, maturity, and psychological insight, "Morgan: American Financier" is that rare masterpiece biography that enables us to penetrate the soul of a complex human being. " The Philadelphia Inquirer.
About the Author
---
Jean Strouse is the author of "Alice James, A Biography, " which won the Bancroft Prize in American History and Diplomacy, and "Morgan, American Financier." Her essays and reviews have appeared in "The New Yorker, The New York Review of Books, The New York Times, Newsweek, Architectural Digest, " and "Slate." She has been president of the Society of American Historians, a consultant (oral historian) to the Bill and Melinda Gates Foundation, and a fellow of the John D. and Catherine T. MacArthur Foundation. A member of the American Academy of Arts and Sciences, the American Philosophical Society, and the executive council of the Authors Guild, she is currently the Sue Ann and John Weinberg Director of the Dorothy and Lewis B. Cullman Center for Scholars and Writers at The New York Public Library. "From the Hardcover edition."
Praise For…
---
"Jean Strouse is one of the foremost biographers in America--a fine scholar and a natural writer, with the imaginative sensitivity to see below the surface of events and the intellectual power to give brilliant narrative coherence to what she sees. Pierpont Morgan, the central banker of the United States before the Great War, was one of the most contradictory public figures of the Gilded Age. In this engrossing story--an extraordinary accomplishment, filled with the vitality of the biographer and the fascination of her subject--Morgan has finally met his match."
--Michael Holroyd