The Girl, the Gold Watch & Everything (Paperback)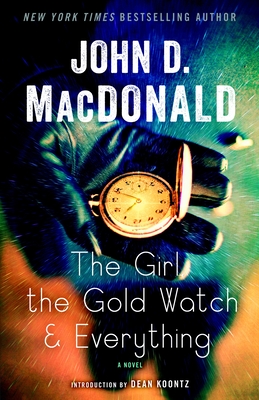 $16.00
Usually Ships in 1-5 Days
Description
---
From John D. MacDonald, one of the enduring American novelists of the twentieth century, comes a science fiction classic with a timeless premise. An aimless young man discovers a way to stop the world in its tracks and that's when his life truly begins.
Introduction by Dean Koontz
Once an ordinary math teacher, Omar Krepps developed a knack for gambling, amassed a fabulous fortune, and spent the rest of his life traveling the world and giving away his millions. Upon his death, however, Krepps bequeaths nothing to his nephew and only living blood relative, Kirby Winter nothing, that is, except an antique watch and a sealed letter to be opened after one year.
But Kirby has much more in his possession than he realizes. The watch has the power to manipulate time. Not only does this revelation shed light on the mystery of his uncle's life, it puts Kirby on the path to unimaginable wealth and a new lease on love . . . as well as a whole host of deadly troubles. Even in a universe where time is no issue, Kirby must tread carefully to stay one step ahead of danger.
Praise for John D. MacDonald
To diggers a thousand years from now, the works of John D. MacDonald would be a treasure on the order of the tomb of Tutankhamen. Kurt Vonnegut
As a young writer, all I ever wanted was to touch readers as powerfully as John D. MacDonald touched me. Dean Koontz
John D. MacDonald was a writer way ahead of his time. John Saul.
About the Author
---
John D. MacDonald was an American novelist and short-story writer. His works include the Travis McGee series and the novel "The Executioners, " which was adapted into the film "Cape Fear." In 1962 MacDonald was named a Grand Master of the Mystery Writers of America; in 1980, he won a National Book Award. In print he delighted in smashing the bad guys, deflating the pompous, and exposing the venal. In life, he was a truly empathetic man; his friends, family, and colleagues found him to be loyal, generous, and practical. In business, he was fastidiously ethical. About being a writer, he once expressed with gleeful astonishment, They pay me to do this! They don t realize, I would pay them. He spent the later part of his life in Florida with his wife and son. He died in 1986."
Praise For…
---
Praise for John D. MacDonald
 
"The great entertainer of our age, and a mesmerizing storyteller."—Stephen King
 
"My favorite novelist of all time . . . All I ever wanted was to touch readers as powerfully as John D. MacDonald touched me. No price could be placed on the enormous pleasure that his books have given me. He captured the mood and the spirit of his times more accurately, more hauntingly, than any 'literature' writer—yet managed always to tell a thunderingly good, intensely suspenseful tale."—Dean Koontz
 
"To diggers a thousand years from now, the works of John D. MacDonald would be a treasure on the order of the tomb of Tutankhamen."—Kurt Vonnegut
 
"A master storyteller, a masterful suspense writer . . . John D. MacDonald is a shining example for all of us in the field. Talk about the best."—Mary Higgins Clark
 
"The consummate pro, a master storyteller and witty observer . . . John D. MacDonald created a staggering quantity of wonderful books, each rich with characterization, suspense, and an almost intoxicating sense of place."—Jonathan Kellerman
 
"There's only one thing as good as reading a John D. MacDonald novel: reading it again. A writer way ahead of his time, he is the all-time master of the American mystery novel."—John Saul