A Truth Universally Acknowledged: 33 Great Writers on Why We Read Jane Austen (Paperback)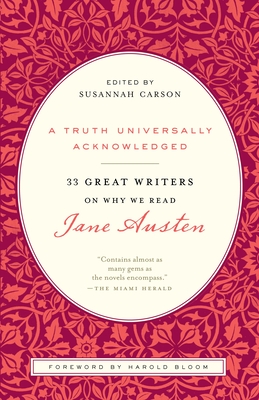 $15.00
Usually Ships in 1-5 Days
Description
---
Why are we so fascinated with Jane Austen's novels? Why is Austen so universally beloved? The essayists in this volume offer their thoughts on the delightful puzzle of Austen's popularity. Classic and contemporary writers--novelists, essayists, journalists, scholars, and a filmmaker--discuss the tricks and treasures of Austen's novels, from her witty dialogue, to the arc and sweep of her story lines, to her prescriptions for life and love.
Virginia Woolf examines Austen's maturation as an artist and speculates on how her writing would have changed had she lived another twenty years, while Anna Quindlen examines the enduring issues of social pressure and gender politics that make Pride and Prejudice as vital today as ever. From Harold Bloom to Martin Amis, Somerset Maugham to Jay McInerney, Eudora Welty to Amy Bloom, each writer reflects on Austen's place in both the literary canon and our cultural imagination.
About the Author
---
Susannah Carson is a doctoral candidate in French at Yale University. Her previous degrees include an M.Phil from the Sorbonne Paris III, as well as MAs from the Universite Lyon II and San Francisco State University. She has lectured on various topics of English and French literature at Oxford, the University of Glasgow, Yale, Harvard, Concordia, and Boston University. From the Hardcover edition.
Praise For…
---
"Contains almost as many gems as the novels encompass."—Miami Herald
 
"The novels of Jane Austen live beyond the page, haunting our lives. The writers in this volume explain their own relationship with Austen and together are a kind of invitation for us, whether we're Janeites or not, to understand why we are so in her thrall."—Chicago Tribune
 
"Austen's irony is so deliciously multilayered that every rereading will yield a fresh perspective. This book offers many such discoveries. . . . [A] delightful volume."—The Economist
 
"Jane Austen remains a hot literary property [and this book] explains her eternal appeal."—USA Today
 
"Austenites will enjoy dipping into this collection."—Booklist
 
"The pieces make many astute points about Austen's oeuvre."—Publishers Weekly