Absolute Monarchs: A History of the Papacy (Paperback)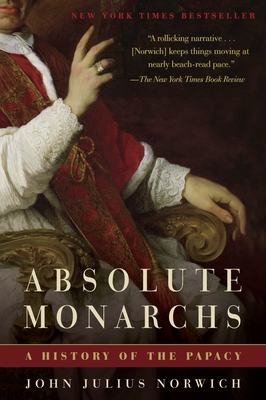 $20.00
Usually Ships in 1-5 Days
Description
---
NEW YORK TIMES BESTSELLER
In a chronicle that captures nearly two thousand years of inspiration and intrigue, John Julius Norwich recounts in riveting detail the histories of the most significant popes and what they meant politically, culturally, and socially to Rome and to the world. Norwich presents such popes as Innocent I, who in the fifth century successfully negotiated with Alaric the Goth, an invader civil authorities could not defeat; Leo I, who two decades later tamed (and perhaps paid off) Attila the Hun; the infamous "pornocracy"--the five libertines who were descendants or lovers of Marozia, debauched daughter of one of Rome's most powerful families; Pope Paul III, "the greatest pontiff of the sixteenth century," who reinterpreted the Church's teaching and discipline; John XXIII, who in five short years starting in 1958 instituted reforms that led to Vatican II; and Benedict XVI, who is coping with today's global priest sex scandal. Epic and compelling,
Absolute Monarchs
is an enthralling history from "an enchanting and satisfying raconteur" (
The Washington Post
).
About the Author
---
John Julius Norwich is one of Britain's preeminent historians and travel writers. He has written the histories of Norman Sicily, Byzantium, Venice, and the Mediterranean. Other books have been on Shakespeare's history plays, on music, and on architecture. From the Hardcover edition.
Praise For…
---
"A rollicking narrative . . . [Norwich] keeps things moving at nearly beach-read pace."—The New York Times Book Review
 
"A highly entertaining read . . . [John Julius] Norwich has a lightness of touch and caustic sense of humour. . . . As a lively romp through two millenniums of ecclesiastical history, [Absolute Monarchs is] well-nigh infallible."—The Sunday Business Post
 
"Very readable and rewarding . . . Norwich possesses an easy grace with words, a gift for condensation and a wonderful instinct for the memorable and defining detail."—The Plain Dealer
 
"Deeply researched, Norwich's history offers a wonderful introduction to papal lives."—Publishers Weekly
 
"Excellent, often surprising . . . An outstanding historical survey."—Booklist
 
"[A] sweeping history . . . [a] cacophony of temporal sin."—Los Angeles Times