The Gilded Age (Paperback)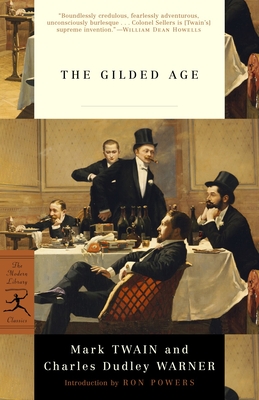 $16.00
Usually Ships in 1-5 Days
Description
---
Introduction by Ron Powers
Includes Newly Commissioned Endnotes Arguably the first major American novel to satirize the political milieu of Washington, D.C. and the wild speculation schemes that exploded across the nation in the years that followed the Civil War, The Gilded Age gave this remarkable era its name. Co-written by Mark Twain and Charles Dudley Warner, this rollicking novel is rife with unscrupulous politicians, colorful plutocrats, and blindly optimistic speculators caught up in a frenzy of romance, murder, and surefire deals gone bust. First published in 1873 and filled with unforgettable characters such as the vainglorious Colonel Sellers and the ruthless Senator Dilsworthy, The Gilded Age is a hilarious and instructive lesson in American history.
About the Author
---
Ron Powers is a Pulitzer Prize--winning journalist. His books include Tom and Huck Don't Live Here Anymore: Childhood and Murder in the Heart of America and Mark Twain: A Life. He co-wrote, with James Bradley, the #1 New York Times bestseller Flags of Our Fathers: Heroes of Iwo Jima.