Amerigo: The Man Who Gave His Name to America (Paperback)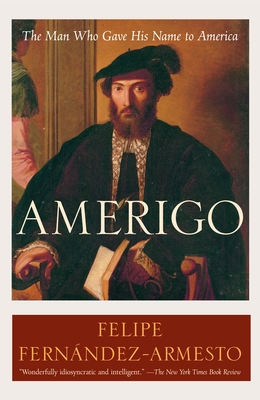 $15.00
Usually Ships in 1-5 Days
Description
---
In Amerigo, the award-winning scholar Felipe Fernandez-Armesto answers the question "What's in a name?" by delivering a rousing flesh-and-blood narrative of the life and times of Amerigo Vespucci. Here we meet Amerigo as he really was: a rogue and raconteur who counted Christopher Columbus among his friends and rivals; an amateur sorcerer who attained fame and honor through a series of disastrous failures and equally grand self-reinventions. Filled with well-informed insights and amazing anecdotes, this magisterial and compulsively readable account sweeps readers from Medicean Florence to the Sevillian court of Ferdinand and Isabella, then across the Atlantic of Columbus to the brave New World where fortune favored the bold. Amerigo Vespucci emerges from these pages as an irresistible avatar for the age of exploration-and as a man of genuine achievement as a voyager and chronicler of discovery. And now, in Amerigo, this mercurial and elusive figure finally has a biography to do full justice to both the man and his remarkable era. Praise for Amerigo "Wonderfully idiosyncratic and intelligent."
-The New York Times Book Review "Fascinating . . . Fernandez-Armesto's] lively style is effective in evoking the flashy and violent world of Renaissance Europe."
-The Washington Post Book World "An outstanding historian . . . Fernandez-Armesto] introduces Amerigo Vespucci as an amazing Renaissance character independent of his name's fame-and does Fernandez-Armesto ever deliver."
-Booklist (starred review) "Dazzling . . . an elegant tale of Vespucci's ability to transform himself from a merchant into an explorer and conqueror of new worlds."
-Publishers Weekly (starred review) NAMED ONE OF THE BEST BOOKS OF THE YEAR BY THE WASHINGTON POST.
About the Author
---
Felipe Fernandez-Armesto, the Prince of Asturias Professor of History at Tufts University, is the author of several books, including The Americas, Millennium, Columbus, and Near a Thousand Tables: A History of Food. He is the recipient of many honors and awards, including the Cairo Medal, the John Carter Brown Medal, and the Premio Nacional de Investigacion of Spain's Sociedad Geografica Espanola. His work has appeared in twenty-four languages, and his journalism and broadcasts appear frequently in Spanish and British media. From the Hardcover edition.