Infidels: A History of the Conflict Between Christendom and Islam (Paperback)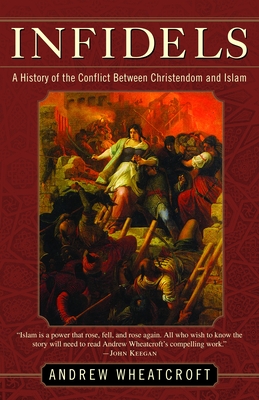 Description
---
Here is the first panoptic history of the long struggle between the Christian West and Islam.
In this dazzlingly written, acutely nuanced account, Andrew Wheatcroft tracks a deep fault line of animosity between civilizations. He begins with a stunning account of the Battle of Lepanto in 1571, then turns to the main zones of conflict: Spain, from which the descendants of the Moors were eventually expelled; the Middle East, where Crusaders and Muslims clashed for years; and the Balkans, where distant memories spurred atrocities even into the twentieth century. Throughout, Wheatcroft delves beneath stereotypes, looking incisively at how images, ideas, language, and technology (from the printing press to the Internet), as well as politics, religion, and conquest, have allowed each side to demonize the other, revive old grievances, and fuel across centuries a seemingly unquenchable enmity. Finally, Wheatcroft tells how this fraught history led to our present maelstrom. We cannot, he argues, come to terms with today's perplexing animosities without confronting this dark past.
About the Author
---
ANDREW WHEATCROFT is the author of many books including The Habsburgs: Embodying Empire, The Ottomans: Dissolving Images, and (with John Keegan) Zones of Conflict: An Atlas of Future Wars. One of the first scholars to use photography in writing the history of the Middle East, he has made art and images a central focus of his work. He is director of the international postgraduate Centre for Publishing Studies at the University of Stirling in Scotland.
Praise For…
---
Praise for Infidels

"Islam is a power that rose, fell, and rose again. All who wish to know the story will need to read Andrew Wheatcroft's compelling work."
—JOHN KEEGAN

"Wheatcroft has written an excellent and truly remarkable book. He reminds us of something vital, and too often forgotten: Most of those who were 100 percent sure that the infidels—call them Saracens, Agarenes, Ishmaelites, or Turks—were completely savage and barbarous had never met or seen a Saracen or a Turk in their lives. Somehow they just knew that these aliens should be hated and feared. As a promoter of dialogue between East and West, I agree with Wheatcroft—that unfortunately, now just as much as in the past, it is media outlets and the spreading of false knowledge that promote hostility."
—HIS ROYAL HIGHNESS PRINCE EL HASSAN BIN TALAL OF JORDAN

"Rattling good reading . . . [Wheatcroft's] humane conclusion is admirable."
—FELIPE FERNÁNDEZ-ARMESTO, The Sunday Times (London)

"Gripping, often blood-curdling, history. . . recounted with tremendous literary flair."
—JOHN ADAMSON, The Sunday Telegraph (London)