Remembrance of Things Paris: Sixty Years of Writing from Gourmet (Paperback)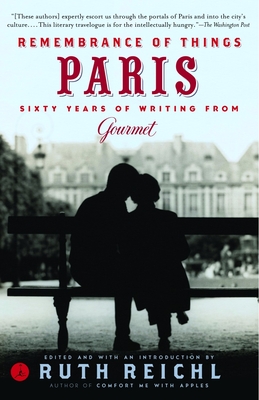 $18.00
Usually Ships in 1-5 Days
Description
---
A glorious, edible tour of Paris through six decades of writing from Gourmet magazine, edited and introduced by Ruth Reichl
For sixty years the best food writers have been sending dispatches from Paris to Gourmet. Collected here for the first time, their essays create a unique and timeless portrait of the world capital of love and food. When the book begins, just after the war, we are in a hungry city whose chefs struggle to find the eggs and cream they need to re-create the cuisine from before the German occupation. We watch as Paris comes alive again with zinc-topped tables crowded with people drinking cafe au lait and reveling in crisp baguettes, and the triumphant rebirth of three-star cuisine. In time, nouvelle cuisine is born and sweeps through a newly chic and modern city. It is all here: the old-time bourgeois dinners, the tastemakers of the fashion world, the hero-chefs, and, of course, Paris in all its snobbery and refinement, its inimitable pursuit of the art of fine living. Beautifully written, these dispatches from the past are intimate and immediate, allowing us to watch the month-by-month changes in the world's most wonderful city. Remembrance of Things Paris is a book for anyone who wants to return to a Paris where a buttery madeleine is waiting around every corner.
Contributors include Louis Diat, Naomi Barry, Joseph Wechsberg, Judith and Evan Jones, Don Dresden, Lillian Langseth-Christensen, Diane Johnson, Michael Lewis, and Jonathan Gold.
About the Author
---
RUTH REICHL is the editor in chief of Gourmet magazine and the editor of the Modern Library Food series. She is the author of the bestselling memoirs Tender at the Bone and Comfort Me with Apples. She has been the chief restaurant critic of the Los Angeles Times and The New York Times. She lives in New York City. From the Hardcover edition.
Praise For…
---
Praise for Remembrance of Things Paris:

"With selections from the last six decades, this book gives the reader snapshots of Paris that are crisp, clear, and often poignant, proof that things really have changed in the temple of food. The cameos of the sleeves-rolled-up individuals behind the big names—including Berthillon and Lenôtre—read like fiction and remind us of a fundamental truth: creating magic in the kitchen is hard work, and the French have been at it far longer than others. An entrancing book."
—Thad Carhart, New York Times-bestselling author of The Piano Shop on the Left Bank