The Year of Pleasures (Paperback)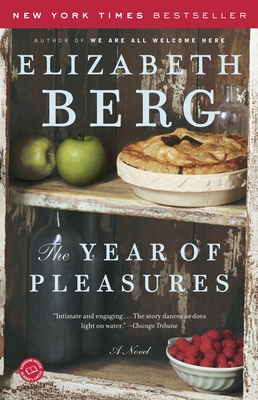 $16.00
Usually Ships in 1-5 Days
Description
---
In this rich and deeply satisfying novel by the beloved author of
The Art of Mending
, and
Open House
, a resilient woman embarks upon an unforgettable journey of adventure, self-discovery, and renewal.
Betta Nolan moves to a small town after the death of her husband to try to begin anew. Pursuing a dream of a different kind of life, she is determined to find pleasure in her simply daily routines. Among those who help her in both expected and unexpected ways are the ten-year-old boy next door, three wild women friends from her college days, a twenty-year-old who is struggling to find his place in the world, and a handsome man who is ready for love.
Elizabeth Berg's
The Year of Pleasures
is about acknowledging the solace found in ordinary things: a warm bath, good food, the beauty ofnature, music, friends, and art. "Berg writes with humor and a big heart about resilience, loneliness, love, and hope. Andthe transcendence that redeems,"said Andre Dubus about
Durable Goods
. Andthe same could be said about
The Year of Pleasures
.
From the Hardcover edition.
About the Author
---
Elizabeth Berg is the New York Times bestselling author of many novels, including We Are All Welcome Here, The Year of Pleasures, The Art of Mending, Say When, True to Form, Never Change, and Open House, which was an Oprah s Book Club selection in 2000. Durable Goods and Joy School were selected as ALA Best Books of the Year, and Talk Before Sleep was short-listed for the ABBY Award in 1996. The winner of the 1997 New England Booksellers Award for her body of work, Berg is also the author of a nonfiction work, Escaping into the Open: The Art of Writing True. She lives in Chicago. To schedule a speaking engagement, please contact American Program Bureau at www.apbspeakers.com"
Praise For…
---
Praise for Elizabeth Berg

"The day you open this book you will miss all your appointments, because . . . you will read it straight through. . . . Berg's writing is to literature what Chopin's études are to music–measured, delicate, and impossible to walk away from until their completion."
–Entertainment Weekly, about Range of Motion

"Lyrical from start to finish . . . Shaped by Berg's artistic talents, these stories of ordinary people in ordinary situations are anything but ordinary."
—Fort Worth Star-Telegram, about Ordinary Life

"Truth rings forth clearly from every page. Berg captures the way women think–and especially the way they talk to other women–as well as any writer I can think of."
–The Charlottesville Observer, about Talk Before Sleep

"Berg's lovely novels examine how some families grasp blindly at the ties that hold them together and some pluck them apart. Mending is no exception."
–Entertainment Weekly, about The Art of Mending

"Elizabeth Berg is one of those rare souls who can play with truths as if swinging across the void from one trapeze to another."
–Joan Gould, about Talk Before Sleep