Life and Death of Harriett Frean (Paperback)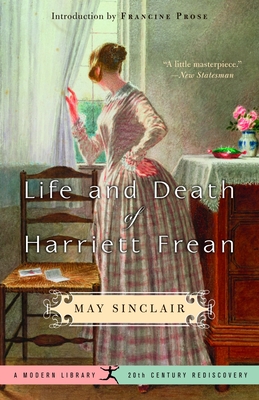 Description
---
"In a few short pages," writes Francine Prose in her Introduction, "May Sinclair succeeds in rendering the oppressive weight and strength of the chains of family love." Young Harriett Frean is taught that "behaving beautifully" is paramount, and she becomes a self-sacrificing woman whose choices prove devastating to herself and to those who love her most. An early pioneer of
stream-of-consciousness writing, Sinclair employs the technique brilliantly in this finely crafted psychological novel. Evoking the style and depth of her contemporaries Virginia Woolf and D. H. Lawrence, Sinclair's haunting narrative also reflects her keen interest in the theories of Jung and Freud. The text of this Modern Library 20th Century Rediscovery was set from the first American edition of 1922.
About the Author
---
May Sinclair (1863-1946), poet, translator, critic, fiction writer, woman's suffrage advocate, and co-founder of a pioneering psychoanalytic clinic, was one of the most popular female British novelists of the early twentieth century. Her twenty-four novels include Mary Olivier: A Life and The Three Sisters. Francine Prose's most recent book is The Lives of the Muses: Nine Women & the Artists They Inspired. A contributing editor at Harper's, she is the author of ten books of fiction, including Blue Angel, a 2000 National Book Award finalist.
Praise For…
---
"A little masterpiece." —New Statesman