Worlds at War: The 2,500-Year Struggle Between East and West (Paperback)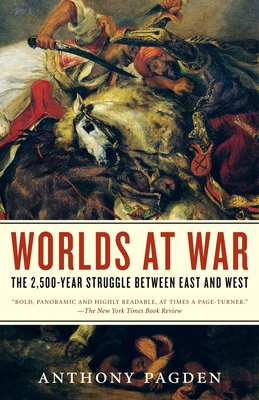 $18.00
Usually Ships in 1-5 Days
Description
---
Spanning two and a half millennia, Anthony Pagden's mesmerizing Worlds at War delves deep into the roots of the clash of civilizations between East and West that has always been a battle over ideas. It begins with ancient Greece and its epic fight against the Persian Empire, then sweeps to Rome, which created the modern concepts of citizenship and the rule of law. Pagden dramatizes the birth of Christianity in the East and its use in the West as an instrument of government, setting the stage for what would become, and has remained, a global battle of the secular against the sacred. Islam, at first ridiculed in Christian Europe, drives Pope Urban II to launch the Crusades, which transform the relationship between East and West into one of competing religious beliefs.
Modern times bring a first world war, which among other things seeks to redesign the Muslim world by force. In our own era, Muslims now find themselves in unwelcoming Western societies, while the West seeks to enforce democracy and its own secular values through occupation in the East. Pagden ends on a cautionary note, warning that terrorism and war will continue as long as sacred and secular remain confused in the minds of so many.
Eye-opening and compulsively readable, Worlds at War is a stunning work of history and a triumph of modern scholarship.
About the Author
---
Anthony Pagden is distinguished professor of political science and history at the University of California, Los Angeles. He was educated in Chile, Spain, and France, and at Oxford. In the past two decades, he has been the reader in intellectual history at Cambridge, a fellow of King s College, a visiting professor at Harvard, and Harry C. Black Professor of History at Johns Hopkins University. He is the author of many prizewinning books, including Peoples and Empires: A Short History of European Migration, Exploration, and Conquest, from Greece to the Present and European Encounters with the New World: From Renaissance to Romanticism. Pagden contributes regularly to such publications as The New York Times, Los Angeles Times, and The New Republic. From the Hardcover edition."
Praise For…
---
"Bold, panoramic and highly readable, at times a page-turner."
–The New York Times Book Review

"A masterpiece of stunning scope, readability, and relevance. Worlds at War makes epic battles of the past come alive as illuminations of what is happening today in Iraq, Iran, and Afghanistan."
–Strobe Talbott, author of The Great Experiment

"A grand synthesis of military and intellectual history, political philosophy and theology, Worlds at War delivers the old-fashioned pleasures of vivid prose and lively narration."
–Newsday

"Absorbing . . . Pagden writes smart, fluent, lively prose. His book is a pleasure to read."
–The Houston Chronicle

"If you are going to read only one book on the Manichaean struggle between East and West, this is the book."
–Efraim Karsh, author of Islamic Imperialism: A History

"Splendid . . . learned, fluent and thoroughly entertaining."
–National Post (Canada)

"Timely and provocative . . . enlightening."
–Cleveland Plain Dealer

Winner of the Washington Institute for Near East Policy Book Prize