Murder on the Leviathan (Paperback)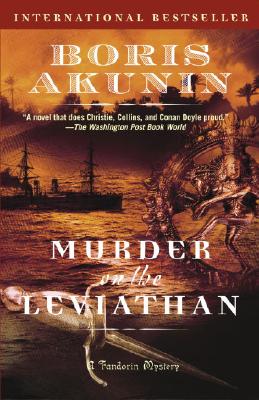 $16.00
Usually Ships in 1-5 Days
Description
---
Paris, 1878: Eccentric antiquarian Lord Littleby and his ten servants are found murdered in Littleby's mansion on the rue de Grenelle, and a priceless Indian shawl is missing. Police commissioner Papa Gauche recovers only one piece of evidence from the crime scene: a golden key shaped like a whale. Gauche soon deduces that the key is in fact a ticket of passage for the
Leviathan
, a gigantic steamship soon to depart Southampton on its maiden voyage to Calcutta. The murderer must be among its passengers.
In Cairo, the ship is boarded by a young Russian diplomat with a shock of white hair none other than Erast Fandorin, the celebrated detective of Boris Akunin's
The Winter Queen
. The sleuth joins forces with Gauche to determine which of ten unticketed passengers on the
Leviathan
is the rue de Grenelle killer.
Tipping his hat to Agatha Christie, Akunin assembles a colorful cast of suspects including a secretive Japanese doctor, a professor who specializes in rare Indian artifacts, a pregnant Swiss woman, and an English aristocrat with an appetite for collecting Asian treasures all of whom are con?ned together until the crime is solved. As the Leviathan steams toward Calcutta, will Fandorin be able to out-investigate Gauche and discover who the killer is, even as the ship's passengers are murdered, one by one?
Already an international sensation, Boris Akunin's latest page-turner transports the reader back to the glamorous, dangerous past in a richly atmospheric tale of suspense on the high seas.
From the Hardcover edition.
About the Author
---
BORIS AKUNIN is the pen name of Grigory Chkhartishvili, who was born in the republic of Georgia in 1956. A philologist, critic, essayist, and translator of Japanese, he published his rst detective stories in 1998 and quickly became one of the most widely read authors in Russia. He has written ten Erast Fandorin novels to date, which have sold more than eight million copies in Russia and been translated into nearly two dozen languages. He lives in Moscow."
Praise For…
---
"Murder on the Leviathan harks back gratifyingly to the cerebral nature of this genre. . . . A nostalgically civilized spirit, even in the presence of murder."
–The New York Times

"Intricate and marvelous . . . addictively dazzling . . . Akunin's agile leaps of time, tone, and narrative style are matched by a frisky erudition: The book itself is a luxury literary cruise."
–Entertainment Weekly

"Fiendishly witty . . . [Akunin] knows his Arthur Conan Doyle, and his Fandorin likes to indulge in showy displays of Holmesian observations."
–Time

"A crafty puzzle in a sophisticated setting."
–The New York Times Book Review

"Enjoyable . . . [with] a rich trove of historical details that are both fun to read and illuminating."
–The Los Angeles Times Book Review



Praise for Boris Akunin:

"[Akunin's Erast Fandorin] novels feature a Slavic Sherlock Holmes who speaks Japanese and English, is skilled at martial arts and has lady-killer good looks....Millions of readers have been seduced by the books' elegant style and classy, retro feel."
—The Wall Street Journal

"[Akunin is] the Russian Ian Fleming....[The Winter Queen] features abduction, villains, beautiful women and, of course, espionage....Akunin's accomplished writing is a treat."
—Ruth Rendell

"Akunin's prose is clean and swift, pausing only to set a scene with a few well-chosen details before resuming the hairpin curves of the action. If Pushkin had tried his hand at detective ?ction, it might have turned out something like this."
—The New York Times Book Review

"A warning to readers: after ?nishing this novel you will need more novels featuring Erast Fandorin....Akunin succeeds in transporting us completely into nineteenth-century Russia, yet the novel is a de?nitively modern mystery."
—Matthew Pearl, author of The Dante Club

"A tasty dish...There are secret panels, hidden tunnels, a false mustache, intercepted letters, gun?ghts, and a glamorous female villain....Akunin knows how to build suspense, but he also enjoys himself; he shows the reader a good time."
—The Boston Globe

"Marries old-fashioned manners to a nonstop array of plot twists to rival the best detective tales. The Winter Queen is an energetic hands-down winner."
—People