American Heart Association Low-Fat & Luscious Desserts: Cakes, Cookies, Pies, and Other Temptations (Hardcover)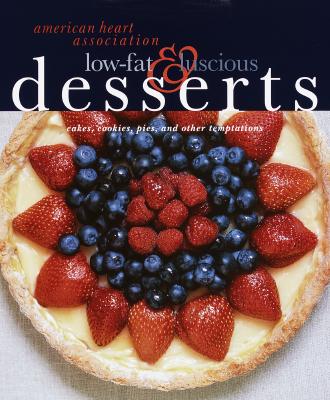 Description
---
With its first-ever dessert cookbook, the American Heart Association proves that you can indulge in soul-satisfying desserts -- and still keep your heart healthy and your waistline trim. These sweet treats are heavy on decadence, but light on saturated fat, cholesterol, and calories. Here are more than 100 mouthwatering recipes, every one of which can fit into a healthful eating plan.

Whether you want to pack a special treat into a lunch box, whip up a quick goodie to end a weekday meal, or create a show-stopping finish to a birthday, dinner party, holiday feast, or other special occasion, here are your answers. You'll satisfy the most discriminating sweet tooth with these delectable, easy-to-prepare cakes, cookies, puddings, pies, fruit treats, and frozen delights -- and, of course, chocolate, chocolate, and more chocolate!

With its gorgeous photography, this beautiful volume will be the perfect finale to your American Heart Association cookbook collection.
About the Author
---
The American Heart Association is the nation's premier authority on heart health. Its best-selling library of cookbooks and guides includes "The New American Heart Association Cookbook; American Heart Association Low-Fat, Low-Cholesterol Cookbook; American Heart Association Meals in Minutes Cookbook; American Heart Association Quick & Easy Cookbook; American Heart Association Kids' Cookbook;" and "American Heart Association Around the World Cookbook." The organization is headquartered in Dallas, Texas, with affiliates that serve the entire United States. For more information, please see www.americanheart.org.