Once in a Promised Land (Paperback)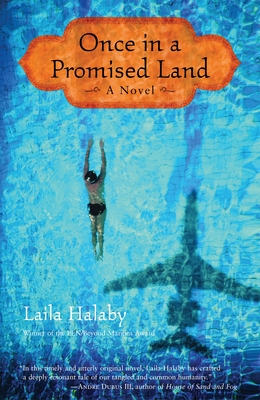 Please email or write store for pricing and availability information.
Usually Ships in 1-5 Days
Description
---
They say there was or there wasn't in olden times a story as old as life, as young as this moment, a story that is yours and is mine. Once in a Promised Land is the story of Jassim and Salwa, who left the deserts of their native Jordan for those of Arizona, each chasing mirages of opportunity and freedom. Although the couple live far from Ground Zero, they cannot escape the dust cloud of paranoia settling over the nation. A hydrologist, Jassim believes passionately in his mission to make water accessible to all people, but his work is threatened by an FBI witch hunt for domestic terrorists. A Palestinian now twice displaced, Salwa embraces the American dream. She grapples to put down roots in an unwelcoming climate, becoming pregnant against her husband's wishes. When Jassim kills a teenage boy in a terrible accident and Salwa becomes hopelessly entangled with a shadowy young American, their tenuous lives in exile and their fragile marriage begin to unravel. Once in a Promised Land is a dramatic and achingly honest look at what it means to straddle cultures, to be viewed with suspicion, and to struggle to find safe haven.
About the Author
---
Laila Halaby was born in Beirut, Lebanon, to a Jordanian father and an American mother. She speaks four languages, won a Fulbright scholarship to study folklore in Jordan, and holds a master's degree in Arabic literature. Her first novel, West of the Jordan, won the prestigious PEN Beyond Margins Award. She lives in Tucson, Arizona, with her family. Visit www.lailahalaby.net for more information on Laila Halaby and her work. From the Hardcover edition.
Praise For…
---
Sometimes you run out of adjectives. Or the adjectives lose their luster. What if I say that Once in a Promised Land is brilliant, insightful, heartbreaking, enchanting—what does that even mean anymore? But this novel is brilliant because the prose glows, sends off heat. Insightful because it allows us to see into a place that most of us don't know about. Heartbreaking because you can feel the situation that these characters are trapped in. And enchanting because it's told in the form of a fairy tale that lets us believe that, somehow, these poor souls may be able to rescue themselves . . . Laila Halaby has captured the human condition perfectly here. —Carolyn See, Washington Post

"Set in the early days of post-September 11 America, Once in a Promised Land draws its structure from Arabian folklore and the western fairy tale, turning both inside out to illuminate the mythic search for home and identity, the universal hunger of the soul for the genuine, and the wounding yet redemptive nature of love itself. In this timely and utterly original novel, Laila Halaby has crafted a deeply resonant tale of out tangled and common humanity.—Andre Dubus III

"Once in a Promised Land tells a story you won't find anywhere else. It gives the human scale to big events and with great fluency captures the heart and soul of what it's like to be living in America in these troubling times."—Larry Dark, director of The Story Prize

"Once in a Promised Land is an intricate braid of secrets, some intimate, some the brutal and nasty ones abroad these days in a land whose promise and promises have been shattered by suspicion and hostility. Laila Halaby, who still dares to dream of an intact culture, has written a forceful novel that catches innocence and the hope for wholeness in the web of its complex plot and squeezes them until they bleed." —Rosellen Brown, author of Before and After

"Once in a Promised Land uses the novel form to bring to life the roots of prejudice and cultural differences, making it a top pick for readers seeking something with more depth than your usual novel."—Diane C. Donovan, Midwest Book Review

"Laila Halaby is a deeply gifted writer. She describes complicated, culture-spanning lives in a poetic prose that is clean and compelling. There is no glossing over pain here, but the power of telling-richly human voices and the redemption of honesty."—Naomi Shihab Nye on West of the Jordan

"Laila Halaby has created a beautiful, poignant tale about America in a dark time and peopled it with exquisitely crafted characters who wring our hearts."—Chitra Banerjee Divakaruni, author of Queen of Dreams and The Mistress of Spices