Tent of Abraham: Stories of Hope and Peace for Jews, Christians, and Muslims (Paperback)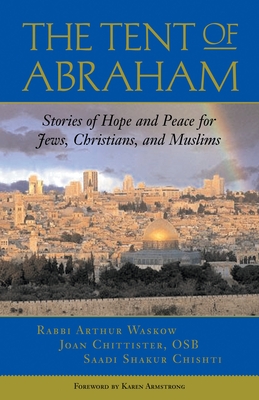 $18.00
Usually Ships in 1-5 Days
Description
---
The Tent of Abraham is the first book to tell the entire story of Abraham and to reenergize it as a basis for peace. Written by three leaders belonging to different faiths, the book explores in accessible language the mythic quality and the teachings of reconciliation that are embedded in the Torah, the Qur'an, and the Bible.
About the Author
---
Joan Chittister, OSB, is a best-selling writer and lecturer. She lives in Erie, Pennsylvania.

Contributor Murshid Saadi Shakur Chishti (Dr Neil Douglas-Klotz) has a website at www.abwoon.com, for the Abwoon Study Circle. This site focuses on his research, study and publication in the areas of Middle Eastern mysticism and peacemaking. "Abwoon" is an Aramaic word for the power of the Universe to give birth to new life every instant. His institutional website is the Edinburgh Institute for Advanced Learning (www.eial.org).

Rabbi Arthur Waskow is the director of The Shalom Center in Philadelphia and author of numerous books, including "Seasons of Our Joy" and "Down-to-Earth Judaism."
Praise For…
---
The Palestinian/Israeli conflict has elicited many books exhorting political and religious peace in the Middle East, but none has appealed to individual minds and hearts quite like this one. —LibraryJournal, starred review

"The stories of our common ancestors told in this book with such creative imagination inspire all of us to build community across the walls that normally divide us." —Bob Edgar, general secretary, National Council of Churches

"This book will open your eyes to the possibilities for collaborative work between our traditions and is a must-read for those doing interfaith peacework." —Tikkun