A Final Arc of Sky: A Memoir of Critical Care (Hardcover)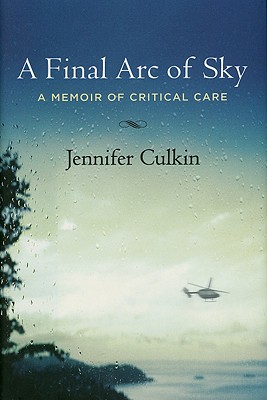 Description
---
Buckling herself into the rear of an Agusta A109A, Jennifer Culkin prepares for the moment of lift. The deafening thrum of the helicopter announces the unknown perils and potential havoc that await. A critical care and emergency flight nurse, Culkin treats patients who are most often in mortal danger. Aboard the Agusta, she is entrusted with the life of a seventeenyearold pulled from the wreckage of a headon collision as his father calls out a wrenching plea from below; she cares for a middleaged man who is bleeding to death internally, remembering the four daughters who have kissed him goodbye, possibly for the last time. It is the arduous and acute struggle to keep her patients alive en route to the hospital that is Jennifer Culkin's most profound duty.

Culkin is no stranger to death and its dramas, or the urgency that accompanies them. Her memoir pulls us into the neonatal intensive care unit, where she labors to ventilate an elevenounce preemie, the smallest human she has ever cared for. The tenuous lines between life and death lead us to the pediatric intensive care unit, where she looks after children seemingly too small to contain their devastating illnesses.

As her personal life begins to mirror the intensity of her work, Culkin writes poignantly of attending her dying mother, who refuses to decide whether to prolong her life. She recounts with tenderness and exasperation the experience of looking after her widowed father, who faces death with dramatic stubbornness, ignoring medical advice and rejecting even basic treatment. Tempering her profound insights with humor, Culkin relates her taste for the edge, her own risky gambles, and her ongoing battle with multiple sclerosis. Finally, Culkin takes us back to flying, with the dramatic and redemptive stories of her colleagues who have perished in helicopter crashes in their very exceptional line of duty.

A Final Arc of Sky does more than plunge readers into the chaos of emergency medicine; it is also a masterful reflection on the pivotal moments of our lives, on the beautiful fragility of our mortality.
Praise For…
---
This book gives us so much more than the details of Jennifer Culkin's experiences as an intensive care nurse; it lifts us into the world of the helicopter and into some of life's highest dramas. A Final Arc of Sky carries its 'mortal freight' with candid honesty as it addresses how we choose to live our lives, and sometimes how we end them. I loved the stories, the language, the point of view, but what I loved most was the way this book was able to break my heart-then mend it. —Judith Kitchen, author of Distance and Direction

"In this powerful, beautifully written memoir, Jennifer Culkin seems constitutionally incapable of sentimentality as a nurse and as a writer. Instead, she wields an irreverent sensibility like a scalpel and applies lyrical insights like a balm, unveiling a fierce and tender passion for her work and her family as she celebrates the 'accidental sacraments' that emerge from love and loss." —Sherry Simpson, author of The Accidental Explorer

"Rarely have we heard from such an eloquent yet urgent voice from the frontlines of mortality. Jennifer Culkin, a writer of enormous talents, brings us too close for comfort to a variety of intense locales: the wreckage of a highway pileup, the inside of a pediatric intensive care unit, her father's deathbed. She writes with elegiac grace and unblinking honesty of our collective determination to sustain life, limb, and, above all, dignity."—Robin Hemley, author of Invented Eden: The Elusive, Disputed History of the Tasaday

"A Final Arc of Sky is one of the very few books I've read that is simultaneously 'I-can't-stop-turning-pages' riveting and profoundly meditative. With her electrifying scenes, her gorgeous sentences, and her provocative explorations of the borderland between life and death, Culkin engaged my heart, my intellect, my artistic sensibility, and my adrenaline. A remarkable debut."—Ann Pancake, author of Strange as This Weather Has Been

"Jennifer Culkin initiates her readers into the high-stress world of critical care medicine, and as she shows us her profession with all its costs and rewards she also reveals the way such work both hardens and opens us to the things of this earth. A Final Arc of Sky is an unstinting inquiry into life-and death-accomplished in lean, graceful prose."—Jane Brox, author of Clearing Land: Legacies of the American Farm