Spelling Love with an X: A Mother, a Son, and the Gene That Binds Them (Paperback)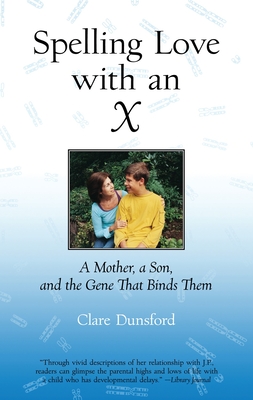 Please email or write store for pricing and availability information.
Usually Ships in 1-5 Days
Description
---
When her son, J.P., was first diagnosed with fragile X syndrome, the most common inherited form of mental retardation, Clare Dunsford discovered that she and three of her four siblings carried the fragile X premutation and had therefore passed on the full mutation to J.P. and several of his cousins. An English professor by training, Dunsford draws on poetry to explore her new identity as a "mutant" and reflect on her life with J.P., a colorful young man with great verbal dexterity and a lovable cheeky streak. Brimming with warmth, Spelling Love with an X shares the disarming insights of a compassionate scholar on motherhood, disability, and genetic inheritance.
About the Author
---
Clare Dunsford is an associate dean in the College of Arts and Sciences at Boston College and has been a contributing writer for Boston College Magazine. She was named a 2008 Genetic Alliance Award Recipient. She was previously an adjunct lecturer in English at Boston College and Harvard University.
Praise For…
---
Through vivid descriptions of her relationship with J.P., readers can glimpse the parental highs and lows of life with a child who has developmental delays. —Lisa M. Jordan, Library Journal

"Clare Dunsford navigates the X that has mapped her own and her son's paths with humor, honesty, and clear-sighted intelligence-and in prose that sings."—Elizabeth Graver, author of The Honey Thief and Awake

"Dunsford does much more than inform us concerning a disorder we know too little about. Through a prose both lucid and beautiful, she is able to communicate the strangeness, even the poetry, of fragile X." —Clara Claiborne Park, author of The Siege and Exiting Nirvana

"Spelling Love with an X is one woman's beautifully written journey toward understanding herself, her son, and the twists of fate and DNA that bind them and all of us. Clare Dunsford's powerful and moving memoir is rich with humor, poetry and, most of all, love." —Mitchell Zuckoff, author of Choosing Naia: A Family's Journey

"Dunsford uses poetry and candor to document a condition the world knows little about by inviting the reader into snapshots of the disability that has been woven throughout the fabric of her life-from coming to terms with her role as a carrier to the poetic retelling of the roller coaster that is life with her son." —Boston Globe