Lester Leaps in: The Life and Times of Lester Pres Young (Paperback)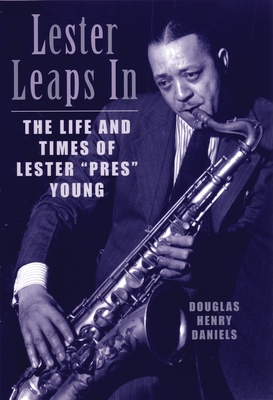 Please email or write store for pricing and availability information.
Usually Ships in 1-5 Days
Description
---
He was jazz's first hipster. He performed in sunglasses and coined and popularized phrases like "that's cool" and "you dig?" He always wore a suit and his trademark porkpie hat. He influenced everyone from B. B. King to Stan Getz to Allen Ginsberg, creating a lyrical style of playing that forever changed the sound of the tenor saxophone.
In this groundbreaking biography of Lester Young (1909-1959), historian Douglas Daniels brings to life the man and his world, and corrects a number of misconceptions. Even though others have identified Young as a Kansas City musician, Daniels traces his roots to the blues of Louisiana and his early years traveling with his father's band and the legendary Oklahoma City Blue Devils. Later we see the jazz culture of New York in the early 1940s, when Young was launched to national and international fame with the Count Basie Orchestra and began to accompany his close friend Billie Holiday. After a year spent in an Army prison on a conviction for marijuana use, Young made changes in his music but never lost his sensitivity or soul.
The first ever to gain access to Young's family and many musicians who performed with him, Daniels reconstructs the world in which Young lived and played: the racism that he and other black musicians faced, the feeling of home and family that they created together on the road, and what his music meant to black audiences. Young emerges as a kind friend, a loving parent, and a gentle and sensitive man who had, in the words of Reginald Scott, "the saddest eyes I ever saw.
About the Author
---
Douglas Henry Daniels is professor of black studies and history at the University of California, Santa Barbara. The author of Pioneer Urbanites: A Social and Cultural History of Black San Francisco, he lives in Santa Barbara.
Praise For…
---
Lester Leaps In jumps of the page with authenticity and insight. The Pres was an amazing creator with a uniquely wicked sense of humor, and this book captures it all." - Quincy Jones, musician and author of Q: The Autobiography of Quincy Jones.

"Prez invented cool. Rather than state a melody, he suggested it. He barely breathed into his horn, creating an intimacy that gave me chills."-- B. B. King

"Douglas Henry Daniels definitive biography traces the music Pres played and the world in which it developed. Deep in detail and admiring in tone, Lester Leaps In is as much a look at the racism of the mid 20th Century as it is about Young."-- T. Michael Crowell, The San Diego Union-Tribune

"Daniels covers it all, from the music to the personal attributes, and he successfully brings the tenor giant back to life."--Steven Loewy, All Music Guide to Jazz

"A groundbreaking account of one of the great figures in twentieth-century music and the rich cultural heritage that made a Lester Young and this wonderful art possible."--Robin D. G. Kelley, author of Freedom Dreams and Yo' Mama's Disfunktional!

"Douglas Daniels has written a provocative book, presenting Lester Young in a novel, even controversial light while opening new avenues of possible investigation into one of the most tantalizingly enigmatic of all historic jazz figures." -Richard M. Sudhalter, The Los Angeles Times