Street Justice: A History of Police Violence in New York City (Paperback)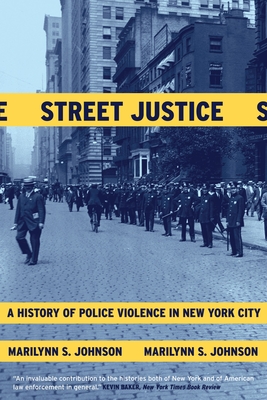 Please email or write store for pricing and availability information.
Usually Ships in 1-5 Days
Description
---
Street Justice traces the stunning history of police brutality in New York City, and the antibrutality movements that sought to eradicate it, from just after the Civil War through the present. New York's experience with police brutality dates back to the founding of the force and has shown itself in various forms ever since: From late-nineteenth-century "clubbing"-the routine bludgeoning of citizens by patrolmen with nightsticks-to the emergence of the "third degree," made notorious by gangster movies, from the violent mass-action policing of political dissidents during periods of social unrest, such as the 1930s and 1960s, to the tumultuous days following September 11. Yet throughout this varied history, the victims of police violence have remained remarkably similar: they have been predominantly poor and working class, and more often than not they have been minorities. Johnson compellingly argues that the culture of policing will only be changed when enough sustained political pressure and farsighted thinking about law enforcement is brought to bear on the problem.
About the Author
---
Marilynn S. Johnson is associate professor of history at Boston College and the author of The Second Gold Rush: Oakland and the East Bay in World War II.
Praise For…
---
'Johnson . . . has taken on a formidable and sensitive subject and has largely conquered it, thanks to indefatigable research and a rigorous, unblinking analysis . . . a well-written, intelligent and at times even colorful examination of one of the perennial problems of urban life . . . an invaluable contribution to the histories both of New York and of American law enforcement in general.' -Kevin Baker, New York Times Book Review

'A masterfully crafted chronicle . . . The pages are sprinkled with fascinating episodes and anecdotes, uncovering the 'story behind the story' for such police practices as 'the third degree' and 'sweatboxes.'' -James Alan Fox, Boston Globe

'This fascinating, highly detailed historical survey, beginning with the NYPD's founding in 1845, reads like a true-crime page-turner . . . [Johnson] provides a sensitive and insightful look at the range of social, political and economic changes that have affected how police brutality has been repeatedly redefined.' -Publishers Weekly

"Street Justice gives the reader pause to seriously reconsider the caliber of many of the people who've worn badges and carried guns on our streets." New York Resident