Teaching the Restless: One School's Remarkable No-Ritalin Approach to Helping Children Learn and Succeed (Paperback)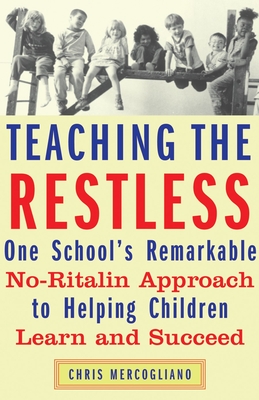 Please email or write store for pricing and availability information.
Description
---
ducator Chris Mercogliano has been working with hyperactive (ADHD) children for many years at the Free School in Albany, New York, and has developed numerous ways to help these students relax, focus, modulate emotional expression, make responsible choices, and forge lasting friendships-all prerequisites for learning. In Teaching the Restless, Mercogliano uses the stories of six boys and three girls to share valuable lessons, offering a way to work with these children without assigning them labels or resorting to the use of stimulant drugs like Ritalin.
About the Author
---
Chris Mercogliano has been a teacher at the Albany Free School since 1973 and codirector since 1985. His writing has appeared in numerous publications, and he is the author of Making It Up As We Go Along. Mercogliano lives in Albany, New York.
Praise For…
---
Chris Mercogliano sees past the . . . deficit-ridden orientation of the ADD/ADHD paradigm and reveals with great humanistic sensibility the passionate worlds of active kids who don't fit into the tight little boxes of most American classrooms. --Thomas Armstrong, Ph.D., author of The Myth of the A.D.D. Child

"The Free School made me consider anew what a good school can look like." --Jill Davidson, Horace

"A sharp critique of schooling, child-rearing practices, and America's increasing rush to medicate away any perceived 'problem' behaviors. In a disarmingly honest narrative . . . Mercogliano raises important questions that should be considered by anyone living with or working with ADHD children." --Marie Eaton, YES! Magazine

"[Mercogliano] makes his case persuasively in a readable, anecdotal recounting of the academic year as observed through nine students. The result is an encouraging success story that demonstrates an alternative to the ever-growing use of drugs for ever-younger children and calls into question the basis for the diagnostic labeling and the use of biopsychiatric pharmaceuticals in the classroom." --Library Journal