Under Deadman's Skin: Discovering the Meaning of Children's Violent Play (Paperback)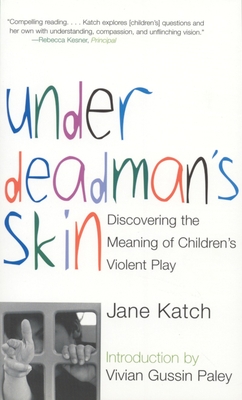 Please email or write store for pricing and availability information.
Usually Ships in 1-5 Days
Description
---
The five-and six-year-olds in my class have invented a new game they call suicide. I have never seen a game I hate so much in which all the children involved are so happy. So begins Under Deadman's Skin, a deceptively simple-and compellingly readable-teachers' tale. Jane Katch, in the tradition of Vivian Paley and Jonathan Kozol, uses her student's own vocabulary and storytelling to set the scene: a class of five-and six-year-olds obsessed with what is to their teacher hatefully violent fantasy play. Katch asks, 'Can I make a place in school for understanding these fantasies, instead of shutting them out?' Over the course of the year she holds group discussions to determine what kind of play creates or calms turmoil; she illustrates (or rather the children illustrate) the phenomenon of very young children needing to make sense of exceptionally violent imagery; and she consults with older grade-school boys who remember what it was like to be obsessed by violence and tell Katch what she can do to help. Katch's classroom journey-one that leads her to rules and limits that keep children secure-is an enabling blueprint for any teacher or parent disturbed by violent children's play.
About the Author
---
Jane Katch is the author of Under Deadman's Skin: Discovering the Meaning of Children's Violent Play and and They Don't Like Me: Lessons on Bullying and Teasing from a Preschool Classroom. She is a regular contributor to Educational Leadership magazine. A veteran teacher, she counseled emotionally disturbed children with Bruno Bettelheim at the Orthogenic School and taught kindergarten with Vivian Paley at the University of Chicago Lab School. She now teaches young children at the Touchstone Community School in Grafton, Massachusetts, and lives in Connecticut with her family. Find her online at www.janekatch.com.
Praise For…
---
Jane Katch is a gutsy teacher and she has written a fascinating book about the obsessions and fears of boys in elementary school. Under Deadman's Skin makes it clear why school boards and politicians cannot legislate boy violence away. We all need to understand boys the way Jane Katch does. --Michael Thompson, Ph.D., author of Raising Cain and coauthor of Speaking of Boys

"Like Vivian Paley before her, Jane Katch takes us inside the minds and hearts of young children. She suspends judgement and her own fears to walk alongside her young students." --James Garbarino, author of Lost Boys: Why Our Sons Turn Violent and How We Can Save Them

"[Katch] tackles many of the most perplexing questions about classroom violence: Do violent movies make violent kids? Are boys more violent than girls? And how does the act of exclusion lead to a cycle of violence?" --New Orleans Times-Picayune