Easy Indian Cooking: 101 Fresh & Feisty Indian Recipes (Hardcover)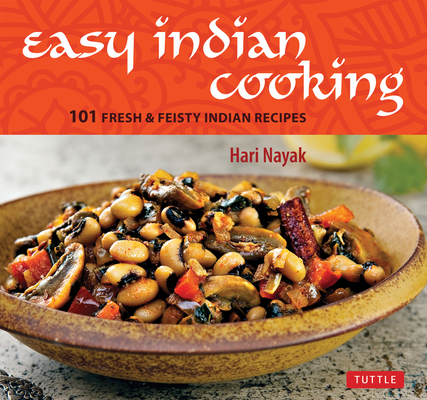 $17.95
Usually Ships in 1-5 Days
Description
---
Easy Indian Cooking is a wonderful collection of easy and authentic Indian recipes anyone can make at home
The 100 plus recipes found in
Easy Indian Cooking
have been modified to suit a modern lifestyle, and all of them can be prepared with ingredients available at any local supermarket or health food store. The preparation and cooking techniques have been simplified to save time without sacrificing any of the flavors of authentic Indian food. This Indian cookbook contains 101 recipes for any occasion. Breakfast, lunch, or dinner, this book is sure to be a winner. Chef Hari Nayak brings the diverse flavors of Indian cuisine right to your table. This Indian cooking book is loaded with detailed photographs so you can make the recipes just like Chef Nayak. A Culinary Institute of America-trained chef, Chef Hari's recipes are so popular you can find them in Whole Foods, where the Chicken Tikka Masala on the hot bar is from a recipe created by Chef Hari. In
Easy Indian Cooking
, Chef Hari has put together an authentic collection of Indian favorites that are so easy to create and so flavorful you'll wonder why you never tried your hand at cooking Indian at home before Recipes include such favorites as:
Curry Corn Chowder with Roasted Poblanos
Basil-infused Crispy Pan Fried Shrimp with Tamarind Glaze
Lemon Sage Tandoori Chicken Tikka
Cumin Coriander Beef Burger with Plum Tomato Mustard Dip
Flamed Crispy Pappadam Chips
Sparkling Ginger Lime Cooler
Cardamom Brownies
About the Author
---
Hari Nayak is known for his simple approach to food. He stays true to the core Indian values of the dishes he creates. Since graduating from the Culinary Institute of America, Hari has worked in the food industry for more than 15 years--including stints at renowned New York restaurants like Aquavit and Daniel. His other cookbooks include Modern Indian Cooking and My Indian Kitchen. Hari lives in New Jersey and appreciates everything that cooking has brought to him. Jack Turkel has been a professional photographer for more than thirty-five years. From the space shuttle and mountain tops to the uniqueness of his photographs of the everyday, his creative eye has expertly captured an impressive list of subjects and settings. He is now focusing his experience on the art of food photography and styling.
Praise For…
---
"I adore spices. Throughout my travel in Asia, I love visiting spice markets. It is no surprise then that I am a great fan of Indian cooking. Its intricate blending of so many spices is absolutely fascinating and delightful. Thanks to Chef Nayak, my understanding of Indian flavors and cooking techniques have broaden, and with that, my appreciation. Chef Nayak's Indian Kitchen is now in my kitchen, as it should be in yours too."—Martin Yan, TV Show Host and Cookbook Author, Yan Can Cook