An Edible Mosaic: Middle Eastern Fare with Extraordinary Flair [Middle Eastern Cookbook, 80 Recipes] (Hardcover)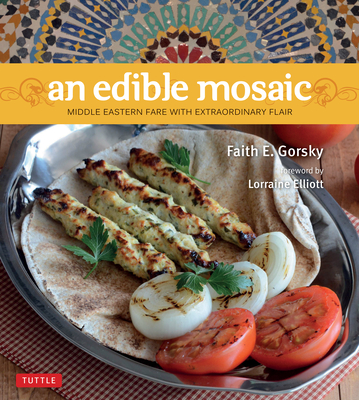 Description
---
Cook vibrant and healthy dishes with this accessible Middle Eastern cookbook.
When Faith Gorsky married her Middle Eastern husband, she married more than just the man. She found herself introduced to a fascinating culture and cuisine that would forever change how she experienced food and cooking. Faith's mother-in-law took her under her wing and in 6 months gave her a thorough course in Middle Eastern cooking that became the basis for her popular website,
An Edible Mosaic
. The growth and success of her website and her own developing interest led to more trips to the Middle East, deepening her knowledge of the cuisine which she shares in
An Edible Mosaic
. In her new cookbook, Faith imparts her favorite Middle Eastern recipes, recipes anyone can make with a little work and some help from Faith Her love for the cuisine of her husband's homeland shows in her enthusiasm for these dishes and the awareness that food is more than just a means of sustenance for the people of the Middle East--it lies at the epicenter of their gatherings with family and friends.
Delicious Middle Eastern recipes include:
Parsley Salad with Bulgur Wheat (Tabbouleh)
Creamy Chickpea and Yogurt Casserole (Fetteh)
Mashed Fava Beans with Olive Oil, Lemon Juice, and Garlic (Foul Mudammas)
Ground Chicken Kebabs (Kebab Dajaj)
Sumac-Spiced Chicken (M'sakhkhan)
Upside-Down Rice Casserole (Maqluba)
Date-Filled Cookies (Ma'amoul)
And many more...
The only traditional way to prepare authentic Middle Eastern food is to watch cooks in action. Nothing is written down, there are no cooking times, few enumerated steps, and certainly no measurements. With
An Edible Mosaic
the secrets of Arab and Mediterranean cooking become simple and demystified.
About the Author
---
Faith Gorsky fell in love with Middle Eastern cuisine when she spent six months living in Damascus. Her Syrian mother-in-law, who happens to be a master cook, was a willing teacher and patient guide. During the past six years, Faith has visited the Middle East four different times, each time expanding her passion and knowledge for both the cuisine and culture of the region. Combining her love for writing and cooking, Faith started her successful and wildly popular food blog, An Edible Mosaic (www.AnEdibleMosaic.com) and in two years has built a following of fans that love both her food and her writing. She cooks, writes and lives in Upstate New York.