If the U Fits: Expert Advice on Finding the Right College and Getting Accepted (Paperback)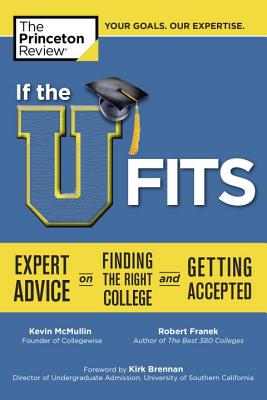 Description
---
..". a user-friendly guide packed with tips on how to get the most out of a college environment. No high school collection or college-bound senior should be without it]." - Midwest Book Review THE PRINCETON REVIEW KNOWS COLLEGES--AND COLLEGEWISE KNOWS HOW TO GET IN. For over twenty years, we at The Princeton Review have published our Best Colleges guides with one goal in mind--helping high school students answer the question: What's the best college for me? Now, we've partnered with the admissions experts at Collegewise to bring you a fresh approach to finding your best fit school and putting your best foot forward on your applications Collegewise helps students finish college applications without stress, get accepted to schools they're excited to attend, and receive generous financial aid and scholarships. Inside, you'll learn:
- How to move beyond the question "What is the best college?" to "What is the best college for me?"
- Strategies for completing applications, writing essays, and handling college interviews
- Tips for maintaining sanity and perspective during the college application process In If the U Fits, Kevin McMullin, Founder and President of Collegewise, and Robert Franek, Publisher and Lead Author of The Princeton Review's Best Colleges guides, share their expertise to help you navigate your college search and admissions process, and even have fun along the way.
About the Author
---
The experts at The Princeton Review have been helping students, parents, and educators achieve the best results at every stage of the education process since 1981. The Princeton Review has helped millions succeed on standardized tests, and provides expert advice and instruction to help parents, teachers, students, and schools navigate the complexities of school admission. In addition to classroom courses in over 40 states and 20 countries, The Princeton Review also offers online and school-based courses, one-to-one and small-group tutoring as well as online services in both admission counseling and academic homework help.