Descanso for My Father: Fragments of a Life (Paperback)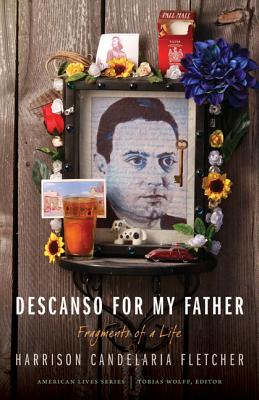 $14.95
Usually Ships in 1-5 Days
Description
---
When his father died, Harrison Candelaria Fletcher wasn't quite two. His mother packed up his father's belongings, put the boxes in a hall closet, and closed the door. The "man in a box" remained a mystery, hardly mentioned, and making only rare appearances in stories when Fletcher or his siblings inquired. Meanwhile, his young Hispanic mother transformed herself into an artist, scouting the back roads and secondhand shops of New Mexico for relics and unlikely treasures to add to her "little shrines," or descansos. "Look closely," she'd say to her son. "Everything tells a story."
This book is Fletcher's literary descanso, a piecing together--from moments and objects and words--of a father's life, of the life lived without that father, and of his own mixed-race identity. Fletcher's reflections unfold like a collage, offering a rich array of images and stories of life with his single mother, organizing weekend family car trips to explore graveyards and adobe ruins; of growing up on the fault lines of class and culture; of being a father who never had one of his own to learn from. From incidents and observations, Fletcher assembles a beautifully crafted portrait of his family's unspoken affliction with loss over the decades, a portrait that finally evokes the father at its heart.
About the Author
---
Harrison Candelaria Fletcher teaches in the MFA in Writing Program at Virginia Commonwealth University. He is the winner of a New Letters Literary Award, High Desert Journal Obsidian Prize, Pushcart Prize Special Mention, and has been a finalist for the National Magazine Award and PEN Center Literary Award.
Praise For…
---
"An homage not only to his dad but to Harrison's own boyhood joys, sorrows and searching, the book makes clear the author's expansive literary sensibilities."—Kirkus Reviews

"Fletcher's prose is simply gorgeous, and Albuquerque's cultural heritage is richly depicted in this book of essays, which adds to our understanding of family, landscape and their role in the formation of identity. An exquisite literary debut."—Rigoberto Gonzalez, El Paso Times
-Rigoberto Gonzalez

"Fletcher deftly shows us the meaning of the word 'quest'—investigation, dream, and religious pursuit all cohere around the essential mystery of one man's life. In the process, the author faces his own relics, making a large picture out of the bright shards of memory and uncertainty."—Judith Kitchen, author of Distance and Direction
-Judith Kitchen

"As with any quest, bravery is required. Descanso for My Father is brave, insightful, compelling, and beautifully, beautifully written."—Sue William Silverman, author of Fearless Confessions: A Writer's Guide to Memoir
-Sue William Silverman

"There are so many things to recommend with this book, starting with its gorgeous prose. The essays, which build in an associative manner, create a memorial that is deeply personal yet rendered so precisely the reader feels party to the completion."—Robin Hemley, author of Do Over and director of the Nonfiction Writing Program at the University of Iowa
-Robin Hemley