Moon (Hardcover)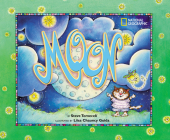 Description
---
A cartoon cat and bug explain scientific history and concepts regarding the Earth's moon: its ever-changing appearance, composition, comparisons to Earth and the sun, Galileo's observations and discoveries in 1609, astronauts, orbits, and other topics. Busy, colorful borders are full of decorative details based on the main pictures. A concluding craft project gives instructions on how to make craters.
About the Author
---
Steve Tomecek, the Executive Director and Founder of Science Plus, Inc., is the author of numerous books, including three other Jump Into Science titles. He was the winner of the 1996 American Institute of Physics Excellence in Science Writing Award. He lives in Bellerose, NY.
Liisa Chauncy Guida studied at the Pratt School of Art and Design in New York City. She gazes at the moon in the clear skies over her home in Avon, CO.

Liisa Chauncy Guida lives in Avon, Colorado.