Surfacing (Mass Market Paperback)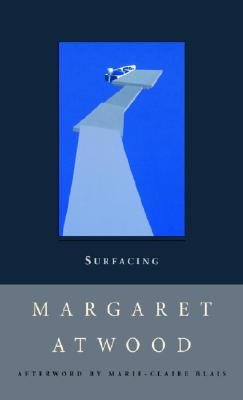 Description
---
Part detective novel, part psychological thriller,
Surfacing
is the story of a young woman who returns to northern Quebec, to the remote island of her childhood, with her lover and two friends, to investigate the mysterious disappearance of her father. Flooded with memories, she begins to realize that going home means entering not only another place, but another time. As the wild island exerts its elemental hold and she is submerged in the language of the wilderness, she discovers that what she is really searching for is her own past. Permeated with an aura of suspense, complex with layered meanings, and written in brilliant, diamond-sharp prose,
Surfacing
has grown in reputation as a novel unique in modern literature for its mythic exploration of one woman's spiritual pilgrimage.
From the Hardcover edition.
About the Author
---
Margaret Atwood was born in Ottawa in 1939, and grew up in northern Quebec and Ontario, and later in Toronto. She has lived in numerous cities in Canada, the U.S., and Europe. She is the author of more than thirty books - novels, short stories, poetry, literary criticism, social history, and books for children. Atwood's work is acclaimed internationally and has been published around the world. Her novels include The Handmaid's Tale and Cat's Eye - both shortlisted for the Booker Prize; The Robber Bride; Alias Grace, winner of the prestigious Giller Prize in Canada and the Premio Mondello in Italy, and a finalist for the Booker Prize, the Orange Prize, and the International IMPAC Dublin Literary Award; and The Blind Assassin, winner of the Booker Prize and a finalist for the International IMPAC Dublin Literary Award. Her new novel is Oryx and Crake (2003). She is the recipient of numerous honours, such as The Sunday Times Award for Literary Excellence in the U.K., the National Arts Club Medal of Honor for Literature in the U.S., Le Chevalier dans l'Ordre des Arts et des Lettres in France, and she was the first winner of the London Literary Prize. She has received honorary degrees from universities across Canada, and one from Oxford University in England. Margaret Atwood lives in Toronto with novelist Graeme Gibson. From the Hardcover edition.
Praise For…
---
"One of the most important novels of the twentieth century…utterly remarkable."
–New York Times Book Review

"Atwood probes emotions with X-ray precision. All in all, it's an exhilarating performance."
–Globe and Mail

"A brilliant tour-de-force."
–Winnipeg Free Press

"Atwood's powers of observation are disconcertingly acute, combining an ear for the vernacular with an eye for the jugular."
–Time

"The depth and complexity of Atwood's critique of contemporary society are stunning."
–Ms.

"It is excellent in so many ways that one cannot begin to do justice to it in a review. It has to be read and experienced."
–Margaret Laurence, Quarry

"Margaret Atwood is one of the most intelligent and talented writers to set herself the task of deciphering life in the late twentieth century."
–Vogue

"In this disturbing book, Margaret Atwood has written a fascinating, sometimes frightening novel about our Canadian landscape, about our paranoia, about what we are and what we are becoming.…Astonishing."
–Edmonton Journal

"Surfacing is likely the best piece of fiction produced by Atwood's generation in North America or anywhere."
–Canadian Forum

"[Atwood is] a superb storyteller who brings intelligence and wit to bear in a compelling personal vision."
–Toronto Star

"It is quite simply superb.…She writes with the ease of total acceptance, from right inside the culture, authenticating our experience, holding up a mirror so that the image we get back is not distorted by satire or made unreal by proselytizing…but real."
–Maclean's

"The sophistication of its telling, the power of observation and imagination make the book remarkable.…It's a masterful encounter with the way we live now."
–Kingston Whig-Standard