Team Canada 1972: The Official 40th Anniversary Celebration of the Summit Series (Hardcover)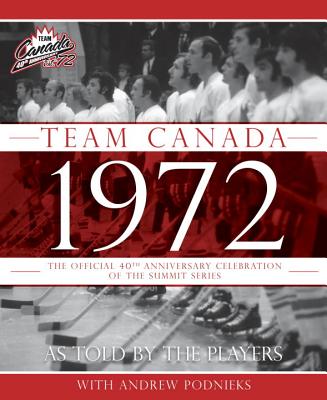 Description
---
It was called the "series of the century" and out of it came the greatest goal ever scored. Incredibly, the Summit Series, featuring Canada and the Soviet Union in a hockey showdown, is now 40 years old, but time has only strengthened and immortalized those eight games that changed the game. No moment has faded, and no series of games since has had the same profound effect on a country, a culture and a sport.

Using its best NHL stars, Canada was supposed to win all eight games, but the Soviets won the first, in Montreal, by a whopping 7-3 score, and from then on fans were witness to the greatest matchup ever. It featured the leadership of Phil Esposito and the skill of Yvan Cournoyer, the goaltending of Vladislav Tretiak, and the speed of Valeri Kharlamov. And in the end, it featured the heroics of Paul Henderson, who scored the winning goal in each of the final three games to give Canada the series victory, the final of those goals coming with just 34 seconds remaining in game eight, September 28, 1972.

Complete with in-depth interviews of every surviving player and a remarkable cache of colour photographs, Team Canada 1972, is the definitive look at the Summit Series 40 years later, still powerful, still resonating, still remarkable. With every living player contributing to the book with personal memories and thoughts of the series, this official publication provides fans with the most detailed and exciting picture of the series.
About the Author
---
ANDREW PODNIEKS is the "Globe and Mail" bestselling author of more than 50 works about hockey. A respected hockey insider, Podnieks is visible at most IIHF international hockey tournaments, where his reporting of the games and off-ice stories of the players, entertains hockey fans from around the globe. Podnieks' recent titles include: "Retired Numbers";" Canada's Olympic Hockey History," and "Sid vs. Ov"i. Podnieks lives with his wife Jane in Toronto, Canada.

As well, every living member of Team Canada 1972 is contributing to this official publication and has agreed to participate in a series of detailed interviews for inclusion in the book. The author lives in Toronto, Ontario."