Beware This Boy (Paperback)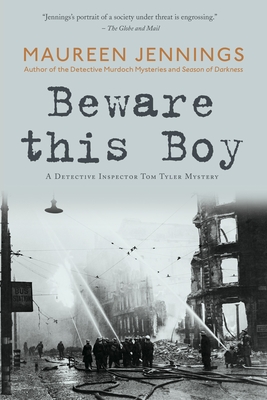 Description
---
November, 1940. Tom Tyler, Detective Inspector of the small Shropshire town of Whitchurch, is a troubled man. The preceding summer had been a dark one for Britain, and even darker for Tom's own family and personal life. So he jumps at the opportunity to help out in the nearby city of Birmingham, where an explosion in a munitions factory has killed or badly injured several of the young women who have taken on dangerous work in support of the war effort.
At first, it seems more than likely the explosion was an accident, and Tom has only been called in because the forces are stretched thin. But as he talks to the employees of the factory, inner divisions -- between the owner and his employees, between unionists and workers who fear communist infiltration -- begin to appear. Put that together with an AWOL young soldier who unwittingly puts all those he loves at risk and a charming American documentary filmmaker who may be much more than he seems, and you have a page-turning novel that bears all the hallmarks of Maureen Jennings' extraordinary talent: a multi-faceted mystery, vivid characters, snappy dialogue, and a pitch-perfect sense of the era of the Blitz, when the English were pushed to their limits and responded with a courage and resilience that still inspires.
About the Author
---
Born in England, MAUREEN JENNINGS taught English before becoming a psychotherapist. The first Detective Murdoch mystery was published in 1997. Six more followed, all to enthusiastic reviews. In 2003, Shaftesbury Films adapted three of the novels into movies of the week, and four years later Shaftesbury (with CityTV, Rogers, UKTV, and Granada International) created the Murdoch Mysteries TV series which is now shown around the world, including on CityTV in Canada, the Alibi channel in the UK, and on most PBS stations in the United States. Her new trilogy, set in World War II-era England, got off to a spectacular start with 2011's Season of Darkness. Maureen lives in Toronto with her husband and their two dogs.
Praise For…
---
"Ignorance is not bliss. That's the short and firm message in this terrific second Tom Tyler mystery from Maureen Jennings. Fans who mourn for the Murdoch tales of Victorian Toronto should not despair; he will return. But the Tyler series, set in Second World War England, shows all of Jennings's talent for historical mystery. . . . With great historical detail, solid characters and a really good plot, this series is another winner for Jennings. Fans of the Foyle's War TV series should rejoice." 
—Globe and Mail

"The period setting is amazingly vivid and terribly real. Writing with all senses on high alert, Jennings creates a flawless approximation of a typical day in the life of all the girls who worked on weapons assembly lines, their skin yellow and their hair orange from the cordite. And when she takes the story underground during an air raid, those bombs she starts dropping come so close that readers might want to duck their heads and take cover."
—New York Times Book Review

"The atmosphere and dialogue in Beware This Boy puts you at the heart of the story. The haunting melodies of Vera Lynn seem to settle in with the words. Writing about the past — 1940 England, a year into the Second World War — is a skill. Making the reader feel they're in the middle of it is a gift. . . . Readers are drawn into as fine a piece of historical mystery writing as they're likely to come across. Read and relish this extraordinary piece of storytelling."
—Hamilton Spectator
 
"Well-crafted characters are [a] Jennings hallmark and this novel has many. The story is told from the perspective of several men and women, both inside and outside the factory. . . . Jennings keeps readers guessing who the culprit is, thanks to a surprise or two along the way."
—Halifax Chronicle-Herald

"It's among Jennings' gifts that all her people are painted in full colours, each comprehensibly human, even the nastiest with their own sorrowful, if not quite mitigating, histories. And Tom Tyler is the most complete and human of them all —  smart, empathetic, yearning, mournful and fair. Jennings [is] the author of seven Detective Murdoch novels set in late-19th-century Toronto and currently dramatized in the eponymous TV series. Those novels are compelling in character and plot, and historically valuable, but her efforts with her new protagonist in a more recent period are possibly even more sterling — may, in fact, be verging on classic war- fiction status."
—Joan Barfoot, in the London Free Press