The World Encyclopedia of Christmas (Paperback)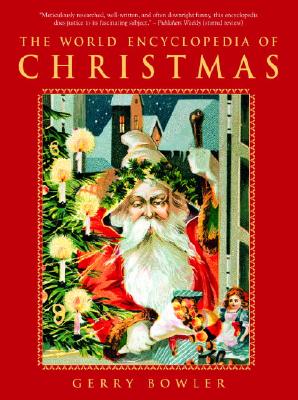 Description
---
At last, a truly comprehensive look at Christmas and all of its customs with its long history around the world. The World Encyclopedia of Christmas contains articles on the history of Christmas baking, drinking, and merrymaking, and Christmas dramas, music, literature, art, and films. It includes entries on the evolution of the Christmas tree and the Christmas card, gift-giving, and decoration of church and home. There are profiles of the many gift-bringers, from Santa Claus to Babouschka, and miraculous tales of the numerous saints associated with the season. And there are histories of seasonal celebrations and folk customs around the world, from the United States to Japan, from Egypt to Iceland.

Who, for example, knew the links between the Punch and Judy show and Christmas? That the medieval Paradise tree hung with tempting apples was the forerunner of the Christmas tree? About the Peerie Guizers, who terrorized the Shetland Islands, going door-to-door for Christmas charity? Or what Freudians make of our interest in Christmas stockings and Santa's entrance through the chimney? There are detailed accounts of Wren Boys and Star Boys, mumming and wassailing, the Feast of Fools and the origins of eggnog. And of course stories of the Nativity and legends of the Magi.

With beautifully illustrated accounts ranging from the pagan roots of Yuletide, through the birth of Christ, and the long and fascinating history of the festival ever since, The World Encyclopedia of Christmas, is a rich and continually surprising array of religious and secular history, trivia, literature, and art. This wonderful book deserves to find a home with every family that celebrates Christmas.
About the Author
---
Gerry Bowler received his Ph.D. in History from King's College, London, and presently teaches at the University of Manitoba. He is the author of "The World Encyclopedia of Christmas," and the co-author of "Europe in the Sixteenth Century." He has published works on topics ranging from Renaissance monarchy and Bloody Mary to the Simpsons, the Spice Girls, and the history of professional hockey. Dr. Bowler was the founding director of the Centre for the Study of Christianity and Contemporary Culture at Calgary's Nazarene University College. He lives in Winnipeg, Manitoba, with his wife, Karen, and three daughters. "From the Hardcover edition."
Praise For…
---
"Meticulously researched, well-written, and often downright funny, this encyclopedia does justice to its fascinating subject."
–Publishers Weekly (starred review)

"Wholly delightful and generally informative."
–Calgary Herald