Writing Gordon Lightfoot: The Man, the Music, and the World in 1972 (Hardcover)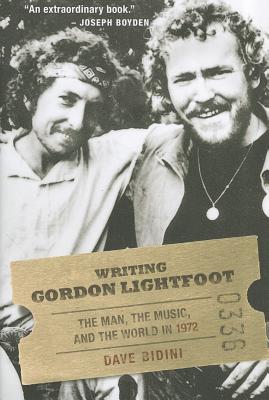 Description
---
From acclaimed musician and author Dave Bidini comes a brilliantly original look at a folk-rock legend and the momentous week in 1972 that culminated in the Mariposa Folk Festival.
July, 1972. As musicians across Canada prepare for the nation's biggest folk festival, held on Toronto Island, a series of events unfold that will transform the country politically, psychologically--and musically. As Bidini explores the remarkable week leading up to Mariposa, he also explores the life and times of one of the most enigmatic figures in Canadian music: Gordon Lightfoot, the reigning king of folk at the height of his career. Through a series of letters, Bidini addresses Lightfoot directly, questioning him, imagining his life, and weaving together a fascinating, highly original look at a musician at the top of his game. By the end of the week, the country is on the verge of massive change and the '72 Mariposa folk fest--complete with surprise appearances by Bob Dylan, Neil Young, Joni Mitchell, and yes, Lightfoot--is on its way to becoming legendary.
About the Author
---
Author and musician Dave Bidini is the only person to have been nominated for a Gemini, Genie and Juno as well CBC's"Canada Reads." A founding member of Rheostatics, he has written 10 books, includingOn a Cold Road, Tropic of Hockey, Around the World in 57 1/2 Gigs, andHome and Away.He has made two Gemini Award-nominated documentaries and his play, the Five Hole Stories, was staged by One Yellow Rabbit Performance Company, touring the country in 2008. His third book, Baseballissimo, is being developed for the screen by Jay Baruchel, and, in 2010, he won his third National Magazine Award, for "Travels in Narnia." He writes a weekly column for the Saturday Post and, in 2011, he published his latest book, Writing Gordon Lightfoot."
Praise For…
---
"An extraordinary book about an extraordinary week. Superb."
—Joseph Boyden
 
"Bidini is a terrific writer - funny, clever, passionate. . . . Part history lesson, part travelogue, part self-examination, part play-by-play and a whole lot of reminiscing... hilarious..." -- Dave Fuller, Toronto Sun
 
"We want to be Dave Bidini when we grow up."
—Toronto Star
 
"Dave Bidini is a heck of a good writer. His prose is almost conversational, creating an effect like a guy sitting at a bar telling you a good story, without the drunken rambling usually associated with such a fellow."
—Globe and Mail


"I could read Dave Bidini all day. And I have."
—Steve Rushin, Sports Illustrated