Called to Love: Approaching John Paul II's Theology of the Body (Paperback)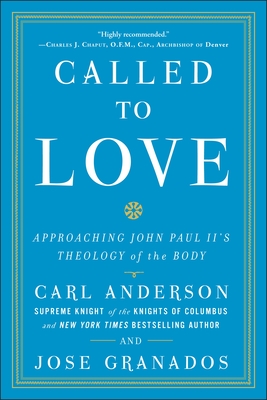 $14.99
Usually Ships in 1-5 Days
Description
---
A thoughtful, accessible work on the beauty of love and the splendor of the body, inspired by Pope John Paul II.
Christianity has long been regarded as viewing the body as a threat to a person's spiritual nature and of denying its sexual dimension. In 1979, Pope John Paul II departed from this traditional dichotomy and offered an integrated vision of the human body and soul. In a series of talks that came to be known as "the theology of the body," he explained the divine meaning of human sexuality and why the body provides answers to fundamental questions about our lives.
In "Called to Love," Carl Anderson, chairman of the world's largest catholic service organization, and Fr. Jose Granados discuss the philosophical and religious significance of "the theology of the body" in language at once poetic and profound. As they explain, the body speaks of God, it reveals His goodness, and it also speaks of men and women and their vocation to love. "Called to Love "brings to life the tremendous gift John Paul II bestowed on humanity and gives readers a new understanding of the Christian way of love and how to embrace it fully in their lives.
About the Author
---
CARL ANDERSON, New York Times bestselling author, is the chief executive officer and chairman of the board of the Knights of Columbus. He held various positions of the Executive Office of the President from 1983 to 1987, was a member of the U.S. Commission on Civil Rights, and has taught at the Pontifical Institute for Studies on Marriage and Family in Rome. FR. JOSE GRANADOS is assistant professor of patrology and sytematic theology at the Pontifical John Paul II Institute for Studies on Marriage and Family at the Catholic University of America in Washington, D.C.
Praise For…
---
"Carl Anderson and Father José Granados write with a clarity, beauty, and intelligence that make these pages a joy to read. But it's the content that makes this book so important. In a culture that increasingly devalues human life, this is a compelling, wonderfully readable reflection on 'the theology of the body' and the meaning of human love and sexuality. I highly recommend it."
—The Most Reverend Charles J. Chaput, O.F.M. Cap., Archbishop of Philadelphia