Mom Still Likes You Best: Overcoming the Past and Reconnecting with Your Siblings (Paperback)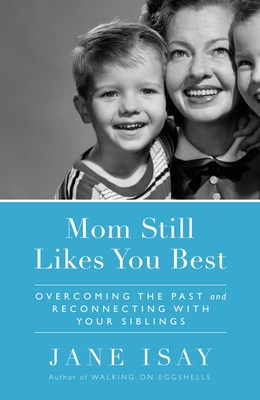 Description
---
A must-read for anyone blessed with or burdened by a sibling, Mom Still Likes You Best explores the sometimes heartbreaking but always meaningful ties between brothers and sisters.
There's a myth that good sibling relations do not include conflict, annoyance, resentment, or mixed feelings. Jane Isay argues that this is a destructive belief, one that makes people doubt the strength of their connection to those they grew up with. Siblings may love and hate, fight and forgive, but they never forget their early bonds. Based on scores of interviews with people of all ages, Mom Still Likes You Best features real-life stories that show how differences caused by family feuds, marriages, distance, or ancient history can be overcome in adulthood. The result is a clear-eyed but compassionate portrait of brothers and sisters in love and war and a celebration of the possibilities that even the most complicated sibling relationships can offer.
About the Author
---
JANE ISAY has been an editor for over forty years. She discovered Mary Pipher s Reviving Ophelia and edited such nonfiction classics as Praying for Sheetrock and Friday Night Lights. She lives in New York City, not too far from her children and grandchildren."
Praise For…
---
"Isay explores the unknown territory of adult sibling relationships—both the best and the worst of them. Her keen observations of adult brothers and sisters and her fresh and profound ideas about this terra incognita give readers an opportunity to laugh, cry, identify, and, ultimately, to love their siblings more deeply." —Mary Pipher, Ph.D., author of Reviving Ophelia

"Siblings enrich our lives in so many ways but they can also get under our skin like no one else can. Jane Isay investigate[s] what makes these relationships work and why they sometimes blow up in your face."—Allison Keyes, Tell Me More (NPR)
 
"Here is human understanding offered by a wise and thoughtful and clinically savvy writer who helps us take notice of how we get on with one another as boys and girls, brothers and sisters—a Tolstoyan observer, with keen intuition and a compelling command of the art of storytelling, helps us readers look back, look inward, and thereby understand how we become who we are." —Robert Coles, M.D., professor of psychiatry and medical humanities at Harvard Medical School and author of the Pulitzer Prize-winning book series Children of Crisis

"Isay observes sibling dynamics with a psychologist's eye while forgiving transgressions between brothers and sisters with a mother's heart." —Ira Byock, M.D., Professor, Dartmouth Medical School and author of Dying Well
 
"If you have a sibling, you'll see yourself in this inspiring book.  Isay's observations are keen enough to make you see your mistakes, kind enough to let you forgive yourself, and hopeful enough to make you want to put the book down and call your sib right away." —Rachel Simmons, author of Odd Girl Out and The Curse of the Good Girl
 
 "Jane Isay's lively exploration of the sibling relationship in all of its complicated varieties is both incisive and benevolent, offering the reader new ways of understanding, repairing, and sometimes even transforming this profoundly important human connection." —Judith Viorst, author of I'm Too Young to Be Seventy and Other Delusions
 
 "Finally, a long overdue mapping of sibling relationships across the life span and how the passionate alliances and painful competitions of early childhood shape our adulthood. Of special interest are the changes that occur when siblings marry and later, when siblings gather to support their aging parents. A lively and revealing account of intimate family life which touches us all.  Highly recommended. —Judith Wallerstein Ph.D., family researcher and author of The Unexpected Legacy of Divorce

"This is a very thoughtful and helpful book, one enhanced by anecdotes and images but offering no easy answer.  There is much to savor here." —Library Journal