Jenkins at the Majors: Sixty Years of the World's Best Golf Writing, from Hogan to Tiger (Paperback)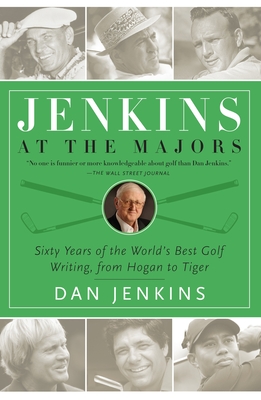 Description
---
Legendary sports writer Dan Jenkins delivers a golf history lesson that is unrivaled in its scope and style.
In this seminal collection, Dan Jenkins has selected the funniest and most riveting stories from his epic career as a writer for Sports Illustrated and Golf Digest, where his wry reportage of golf's most thrilling finishes, historic moments, and heartbreaking collapses brought legions of fans intimately close to the action. All the greatest moments of golf over the last sixty years are here: Jack Nicklaus at Pebble Beach, Arnold Palmer at Cherry Hills, Ben Hogan and Sam Snead at Oakmont, and of course Tiger Woods, just about everywhere. As much about journalism and watching the growth of one of our most cherished sports writers, as it is about the great game of golf, Jenkins at the Majors is a must read for sports fans and golfers alike.
About the Author
---
DAN JENKINS, an award-winning writer for Sports Illustrated for more than twenty years, is the author of nineteen works of fiction and nonfiction, including Semi-Tough, Dead Solid Perfect, Baja Oklahoma, Life Its Ownself, Rude Behavior, Fairways and Greens, Slim and None, and most recently, The Franchise Babe. He currently writes a popular column for Golf Digest and now lives full-time in his native Fort Worth, Texas.
Praise For…
---
"No one is funnier or more knowledgeable about golf than Dan Jenkins."--Wall Street Journal
 
"Carl Hiaasen calls Dan Jenkins 'probably the funniest sports journalist ever.' No argument here."--The New York Times

 "No one has captured the essential lunacy of the twentieth-century sports scene as accurately and hilariously."--Los Angeles Times
 
"Hotter than a habanero pepper. . . . Jenkins brings a passion for the game and a committed intelligence to his coverage."--Richmond Times-Dispatch

"For style, outrageous humor and longevity, it's hard to top Dan Jenkins." --Newsday
 
"His writing and his ear recall—there is no higher compliment—Ring Lardner, though in different times and different Americas."—David Halberstam, New York Times Book Review
 
"Jenkins ranks with the best and most influential sportswriters of the 20th century."--Gary VanSickle, Golf.com
 
"Jenkins takes us inside the world of golf like no one else."--Sacramento Bee
 
"Jenkins is hilarious, providing more laughs per page than any other writer in the 'bidness.'"—People