Passing for Thin: Losing Half My Weight and Finding My Self (Paperback)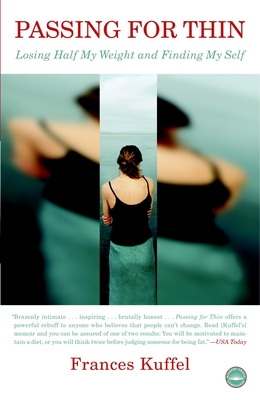 $14.95
Usually Ships in 1-5 Days
Description
---
An intimate and darkly comic memoir of a woman who does a 180 with her body.
When she was in her early forties, Frances Kuffel lost half her body weight. In Passing for Thin, Frances describes with unflinching honesty and a wickedly dark sense of humor her first fumbling introductions to her newly slender body, shining a light on the shared human experience of feeling uncomfortable in one's own skin. She gradually moves from observer to player enjoying for the first time flirting, exercising, and shopping as she explores the terrain on the Planet of Thin. As Frances gradually comes to know and love the stranger in the mirror, she learns that her body does not define her, but enables her to become the woman she's always wanted to be.
About the Author
---
Frances Kuffel is a literary agent who has published poems and short stories in literary journals, such as Triquarterly, the Georgia Review, Glimmer Train, Prairie Schooner, and the Massachusetts Review. A native of Missoula, Montana, she has an M.F.A. from Cornell. She currently makes her home in Brooklyn, New York.
Praise For…
---
"This is a book that will grab you and hold you in its grip, and break your heart even as it inspires you. Frances Kuffel's memoir is so real, so alive with honesty and clarity, you will never forget it. It is a Pilgrim's Progress toward the holy city of thin. Kuffel is our confessional poet of fatness, and the struggle toward fitness, beauty, love. She is entertaining and tough, vivid and funny, in a story of victory that will delight every single reader."
--Robert Morgan, author of Brave Enemies


"Frances Kuffel set out on a true adventure, navigated the dangers, endured, and emerged transfigured. What makes her tale intriguing is that the terrain in question was her own body and its tyrannies. This is a story for our times from a writer with the language, courage and experience to tell it."
--Deidre McNamer, author of Rima in the Weeds and My Russian

This book is simply riveting. There is not a woman who's ever carried more than her share of body weight, who won't identify with every word that Frances Kuffel has written. Kuffel's journey is rich in wit and wisdom. Her book is a jewel and a must have for anyone who's ever contemplated improving their body as well as their mind."
--Pam Peeke MD, MPH, Pew Foundation Scholar in Nutrition and Metabolism, Assistant Professor of Medicine University of Maryland School of Medicine, Author of Fight Fat After Forty, NBC Today Show Medical Expert