Parenting a Struggling Reader (Paperback)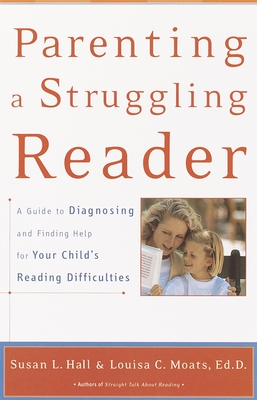 $14.99
Usually Ships in 1-5 Days
Description
---
The first completely comprehensive, practical guide for recognizing, diagnosing, and overcoming any childhood reading difficulty.
According to the National Institute of Health, ten million of our nation's children (approximately 17 percent) have trouble learning to read. While headlines warn about the nation's reading crisis, Susan Hall (whose son was diagnosed with dyslexia) and Louisa Moats have become crusaders for action. The result of their years of research and personal experience, Parenting a Struggling Reader provides a revolutionary road map for any parent facing this challenging problem.
Acknowledging that parents often lose valuable years by waiting for their school systems to test for a child's reading disability, Hall and Moats offer a detailed, realistic program for getting parents actively involved in their children's reading lives. With a four-step plan for identifying and resolving deficiencies, as well as advice for those whose kids received weak instruction during the crucial early years, this is a landmark publication that promises unprecedented hope for the next generation of Information Age citizens.
About the Author
---
Susan L. Hall and Louisa C. Moats, Ed.D., are board members of the International Dyslexia Association and co-authored the award-winning book, Straight Talk About Reading: How Parents Can make a Difference During the Early Years. Their work has drawn extensive national media attention and takes them to more than fifty speaking engagements each year. Susan L. Hall is spokesperson for the Coordinated Campaign for Learning Disabilities, and Louisa C. Moats is Clinical Associate Professor of Pediatrics at the Center for Academic and Reading Skills at the University of Texas, Houston. Dr. Moats also teaches graduate students about reading and language at Simmons College in Boston and the Greenwood Institute in Vermont. She is currently part of a team charged with helping states improve early reading achievement under President Bush s Reading First Initiative. Susan L. Hall lives outside of Chicago, and Louisa C. Moats lives in central Vermont."