The Well of Ascension (Mass Market Paperbound)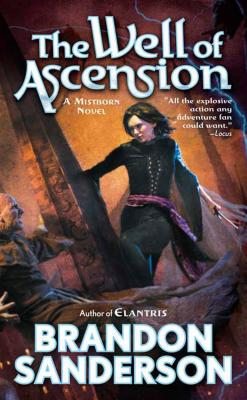 Description
---
Evil has been defeated. The war has just begun.
They did the impossible, deposing the godlike being whose brutal rule had lasted a thousand years. Now Vin, the street urchin who has grown into the most powerful Mistborn in the land, and Elend Venture, the idealistic young nobleman who loves her, must build a healthy new society in the ashes of an empire.
They have barely begun when three separate armies attack. As the siege tightens, an ancient legend seems to offer a glimmer of hope. But even if it really exists, no one knows where to find the Well of Ascension or what manner of power it bestows.
It may just be that killing the Lord Ruler was the easy part. Surviving the aftermath of his fall is going to be the real challenge.
About the Author
---
Brandon Sanderson grew up in Lincoln, Nebraska. He lives in Utah with his wife and children and teaches creative writing at Brigham Young University. He is the author of such bestsellers as the Mistborn(R) trilogy and its sequels, The Alloy of Law, Shadows of Self, and The Bands of Mourning; the Stormlight Archive novels The Way of Kings and Words of Radiance; and other novels, including The Rithmatist and Steelheart. In 2013, he won a Hugo Award for Best Novella for The Emperor's Soul, set in the world of his acclaimed first novel, Elantris. Additionally, he was chosen to complete Robert Jordan's Wheel of Time(R) sequence. For behind-the-scenes information on all of Brandon Sanderson's books, visit brandonsanderson.com.
Praise For…
---
Praise for The Well of Ascension:

"All the explosive action any adventure fan could want."
--Locus

"Sanderson's entertaining second Mistborn novel begins after most fantasy series end, when the team of brave and cunning heroes find that holding on to power is even harder than overthrowing the previous tyrant. . . .  This entertaining read will especially please those who always wanted to know what happened after the good guys won."
--Publishers Weekly

"A great epic fantasy . . . Fans of Terry Goodkind and Terry Brooks will find The Well of Ascension fulfilling, satisfying, and incredibly exciting."
--SFRevu.com