The Well of Ascension (Hardcover)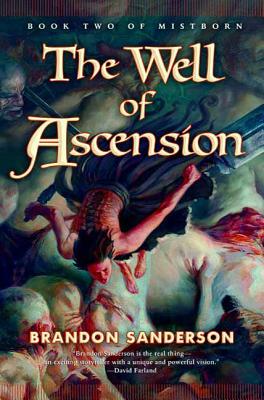 $34.99
Usually Ships in 1-5 Days
Description
---
The impossible has been accomplished. The Lord Ruler the man who claimed to be god incarnate and brutally ruled the world for a thousand years has been vanquished. But Kelsier, the hero who masterminded that triumph, is dead too, and now the awesome task of building a new world has been left to his young protege, Vin, the former street urchin who is now the most powerful Mistborn in the land, and to the idealistic young nobleman she loves.
As Kelsier's protege and slayer of the Lord Ruler she is now venerated by a budding new religion, a distinction that makes her intensely uncomfortable. Even more worrying, the mists have begun behaving strangely since the Lord Ruler died, and seem to harbor a strange vaporous entity that haunts her.

Stopping assassins may keep Vin's Mistborn skills sharp, but it's the least of her problems. Luthadel, the largest city of the former empire, doesn't run itself, and Vin and the other members of Kelsier's crew, who lead the revolution, must learn a whole new set of practical and political skills to help. It certainly won't get easier with three armies one of them composed of ferocious giants now vying to conquer the city, and no sign of the Lord Ruler's hidden cache of atium, the rarest and most powerful allomantic metal.
As the siege of Luthadel tightens, an ancient legend seems to offer a glimmer of hope. But even if it really exists, no one knows where to find the Well of Ascension or what manner of power it bestows.
About the Author
---
Brandon Sanderson grew up in Lincoln, Nebraska. He lives in Utah with his wife and children and teaches creative writing at Brigham Young University. He is the author of such bestsellers as the Mistborn(R) trilogy and its sequels, The Alloy of Law, Shadows of Self, and The Bands of Mourning; the Stormlight Archive novels The Way of Kings and Words of Radiance; and other novels, including The Rithmatist and Steelheart. In 2013, he won a Hugo Award for Best Novella for The Emperor's Soul, set in the world of his acclaimed first novel, Elantris. Additionally, he was chosen to complete Robert Jordan's Wheel of Time(R) sequence. For behind-the-scenes information on all of Brandon Sanderson's books, visit brandonsanderson.com.
Praise For…
---
"Intrigue, politics, and conspiracies mesh complexly in a world Sanderson realizes in satisfying depth and peoples with impressive characters."--Booklist on Mistborn "Enjoyable, adventurous read that. . .should satisfy even easily-bored teens." --Locus on Mistborn "Elantris is the finest novel of fantasy to be written in many years. Brandon Sanderson has created a truly original world of magic and intrigue, and with the rigor of the best science fiction writers he has made it real at every level."--Orson Scott Card "Elantris . . . is marked by vivid and strongly drawn characters (including a memorable female character) and ingenious plot twists that will keep the reader turning pages. Don't miss it!"--Katherine Kurtz, New York Times-bestselling author of the Deryni series
"Sanderson's outstanding fantasy debut . . offers something for everyone: mystery, magic, romance, political wrangling, religious conflict, fights for equality, sharp writing and wonderful, robust characters. . . . The intrigue and excitement grow steadily in this smoothly written, perfectly balanced narrative; by the end readers won't want to put it down. . . . Sanderson is a writer to watch." -Publishers Weekly, Starred Review
 "In this stunning debut novel [is] a completely unique world that enfolds the reader in mystery and wonder right through till the last page."-Romantic Times BOOKReviews