Deadly!: The Truth about the Most Dangerous Creatures on Earth (Hardcover)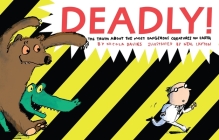 $14.99
Usually Ships in 1-5 Days
Description
---
Lions and scorpions and lethal little jellyfish, oh my Kids will sink their teeth into this fascinating look at nature's fiercest creatures.
Sometimes nature can be nasty: snakes that spit poison, insects with exploding bottoms, and tigers that have you for dinner. Throughout the animal kingdom, creatures are equipped with lethal weapons, from finger-length fangs to toxic tentacles, and have ingenious ways of killing one another poisoning, dive-bombing, strangling, and even electrocuting Discover the murderous methods of attack and defense that make animals armed, dangerous, and deadly.
About the Author
---


Neal Layton was born in Chichester, England. He is the illustrator of many wonderful books for children, including "Smile If You're Human", by Michael Rosen, about which "Booklist "said: "Layton's zany cartoon illustrations set this tale apart from the average picture book."