Tia Isa Quiere Un Carro (Paperback)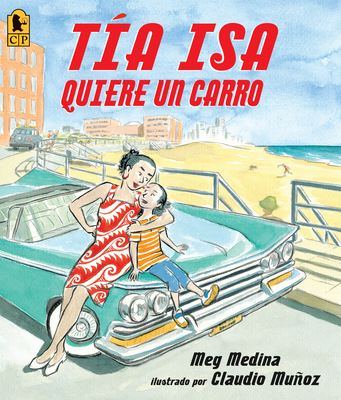 Description
---
A little girl pitches in to help her tia save up for a car and take the whole family to the beach.
Now available in a Spanish-language edition
While Tia Isa wants to save money for a car that will take the whole family to the beach, her niece does odd jobs for neighbors. But it's hard to save enough when half the money is set aside to bring family members who live far away to join them someday. Meg Medina's simple, genuine story about keeping in mind those who are far away is written in lovely, lyrical prose and brought to life through Claudio Munoz's charming characters.
About the Author
---
Meg Medina is the author of the middle-grade novel Milagros: Girl from Away. The idea for her first picture book began with the true story of her family s first car. She grew up in Queens, New York, and now lives in Richmond, Virginia. Claudio Munoz is an award-winning illustrator who has worked for many newspapers and magazines as well as illustrating several children s books. Born in Chile, he now lives in England."