The Jungle Book: Candlewick Illustrated Classic: Mowgli's Story (Paperback)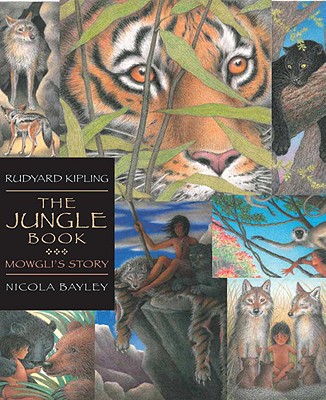 Description
---
Kipling's classic Mowgli tales spring to new life with the help of stunning artwork by acclaimed illustrator Nicola Bayley.

First published in 1984 in THE JUNGLE BOOK, these three stories tell of Mowgli's upbringing by wolves in the Indian jungle. When he is a baby they save him from the tiger Shere Khan, then teach him the law and language of the jungle animals, with help from two other unforgettable characters, Baloo the bear and Bagheera the panther. In this classic edition, Mowgli's adventures are illustrated in ravishing and exquisite detail by Nicola Bayley.
About the Author
---
Rudyard Kipling (1865-1936) was born in India and spent his early childhood there. He was educated in England but returned to India in 1882 and began writing short stories and verse, before settling in England in his early twenties. The most famous writer of his time, he wrote many popular works for adults and children and was awarded the Nobel Prize for Literature in 1907. THE JUNGLE BOOK was first published in 1894.

Nicola Bayley is one of England's bestloved artists. She has illustrated many acclaimed picture books for children, including KATJE, THE WINDMILL CAT, by Gretchen Woelfle, which was short-listed for the Kate Greenaway Medal. She lives in London.