Footprints on the Moon (Hardcover)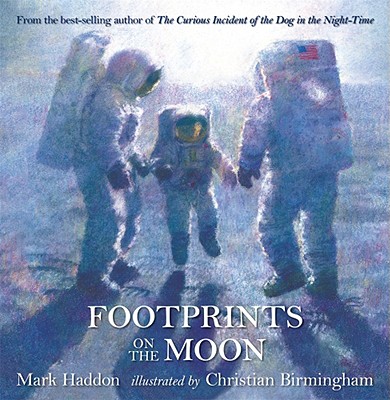 Description
---
Best-selling author Mark Haddon recalls his boyhood fascination with the moon and his pure wonder at witnessing the first lunar landing.
Years ago, a little boy gazed at the moon, dizzy with the thought that he was looking at a world 200,000 miles away. As he read atlases and library books and kept clippings on astronauts orbiting the moon, he hoped and hoped that they would fi nd a way to land there. And one extraordinary day they did, captured on his fl ickery TV, like giants bouncing in slow motion. When the boy fell asleep, he dreamed that he walked with them too. In this lyrical, transporting tale, Mark Haddon -- the boy in the story -- conveys the thrill of one moment in history through a child's eyes, aided by Christian Birmingham's evocative illustrations.
About the Author
---
Mark Haddon is best known as the author of THE CURIOUS INCIDENT OF THE DOG IN THE NIGHT-TIME, a NEW YORK TIMES bestseller And winner of a LOS ANGELES TIMES First Fiction Prize. The author of Many books for children and adults, he lives in Oxford, England. Christian Birmingham has illustrated many books for children, including Hans Christian Andersen's THE SNOW QUEEN and several titles by Michael Morpurgo. He lives in England.