Foo, the Flying Frog of Washtub Pond (Hardcover)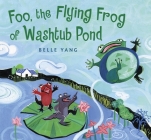 Description
---
For kids of all sizes (and boasting ability), a funny fable about growing pains, the ups and downs of friendship, and the gift of forgiveness.

In a cozy, tropical place called Washtub Pond, three web-footed creatures pass carefree days playing and dreaming together. Sue-Lin Salamander, Mao-Mao Mudpuppy, and Foo Frog have been best, samesize friends since the day they were born. But like all young creatures, these three grow up — and some really BIG changes in Foo Frog put the trio's friendship to the test. With warmth, lighthearted wit, and a bit of hot air, Belle Yang has written and painted a laugh-out-loud story in bold, comedic strokes.
About the Author
---
Belle Yang is the author of the popular illustrated books Hannah Is My Name, The Odyssey of a Manchurian, and Baba: A Return to China Upon My Father s Shoulders. She lives in Carmel, California.