The Boozy Baker: 75 Recipes for Spirited Sweets (Paperback)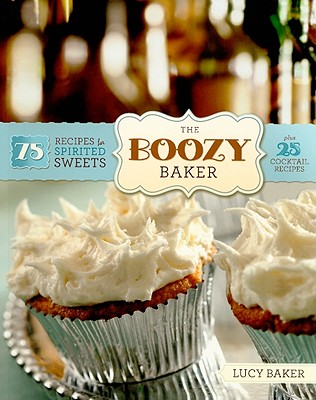 $18.95
Usually Ships in 1-5 Days
Description
---
The Boozy Baker
is a fun collection of recipes for cakes, pies, tarts, cookies, and more, all of which contain a healthy dose of alcohol. Home bakers will recognize classic treats such as profiteroles, peach cobbler, and spiced Bundt cake, and be delighted by the ways they are reinvented with chocolate stout, almond liqueur, and even Jagermeister. Featuring more than 30 full-color photographs, the book also includes sidebars throughout with instructions for preparing funky cocktails that add a punchy compliment to many of the recipes.
Whether you are a pastry perfectionist or a one-bowl beginner, a bonafide mixologist or just looking for a way to polish off a few dusty bottles, this cookbook is sure to become a favorite, its pages splattered with chocolate, sprinkled with sugar, and garnished with a twist.
About the Author
---
Lucy Baker is a food writer and recipe tester, and a contributing columnist for SeriousEats.com and the site's recipes editor. Baker has written articles for numerous publications, both online and in print, including Edible Brooklyn, Publishers Weekly, Popular Mechanics, McSweeney's, and Time Out New York. She lives in Brooklyn.
Praise For…
---
Patricia Helding, Founder, Fat Witch Bakery, and author of Fat Witch Brownies
"This gem of a cookbook should be nestled right between your baking canisters and a bottle of your favorite hooch. Don't reach for one without the other."

Rick Rodgers, author of Thanksgiving 101 and many other cookbooks
"Lucy Baker has created a spirited collection of luscious recipes that are likely to make a dedicated teetotaller make an exception when it comes to dessert.  Lucy knows what many pastry chefs have known for years--that a splash of booze can make or break a dessert.  Cheers!"

Bruce Weinstein and Mark Scarbrough, authors of over seventeen cookbooks, including Ham: An Obsession with the Hindquarter
"Finally, someone has solved that age-old riddle: you can indeed have your cake and drink it, too. Lucy Baker's concoctions are the perfect brew—sweet, spirited, and downright fun. Our only warning: she doesn't include a recipe for aspirin."

Pichet Ong, author of The Sweet Spot
"Of the many baking cookbooks in my stack, this one definitely takes the cake. The concept is utterly original, filled with irresistible photos, and inspiring recipes that will surely incite the inner child—and adult—among us dessert lovers and bakers alike." The Edge- Boston Herald.com, 8/5/10"Baker has compiled a swoon-worthy collection of 75 original dessert recipes that use alcohol plus 25 cocktail recipes." 
Pauline Baughman, Multnomah Cty. Lib., Portland, OR for Library Journal's Xpress Review
"… one part mixology and three parts baking... Featuring drinks and a broad variety of desserts, this grown-up baker's delight is a good choice for libraries with limited budgets."
Pauline Baughman, Multnomah Cty. Lib., Portland, OR Library Journal's Xpress Review July 2010
"In her first cookbook, appropriately named food writer and contributing columnist for SeriousEats.com Baker gives lovers of desserts and spirits a book that is one part mixology and three parts baking. She includes 25 recipes for drinks alongside 75 recipes for cakes, pies, cookies, and spoon desserts; each is a classic or original dessert that is infused with an alcohol-spirits, liqueurs, wine, or beer. … Verdict Featuring drinks and a broad variety of desserts, this grown-up baker's delight is a good choice for libraries with limited budgets."
Wine Enthusiast Magazine, December 2010
"It's hard to resist a cupcake—nevermind one with alcohol—making the aptly named author's book a tempting treat. Baker's cute cookbook offers a combination of 75 booze-fueled recipes (like Pineapple-Tequila Cake and Cuba Libre Brownies), along with 25 bonus cocktail concoctions."
Arlington Advocate, 11/26/10
"… this lovely little book combines sweets with spirits — an irresistible combination and the perfect way to end a meal… Have fun discovering what a splash of the hard stuff can do to a classic treat."
IMBIBE magazine, May/June 2011
"An intoxicatingly fun book with dozens of inspiring recipes and adorable photographs."